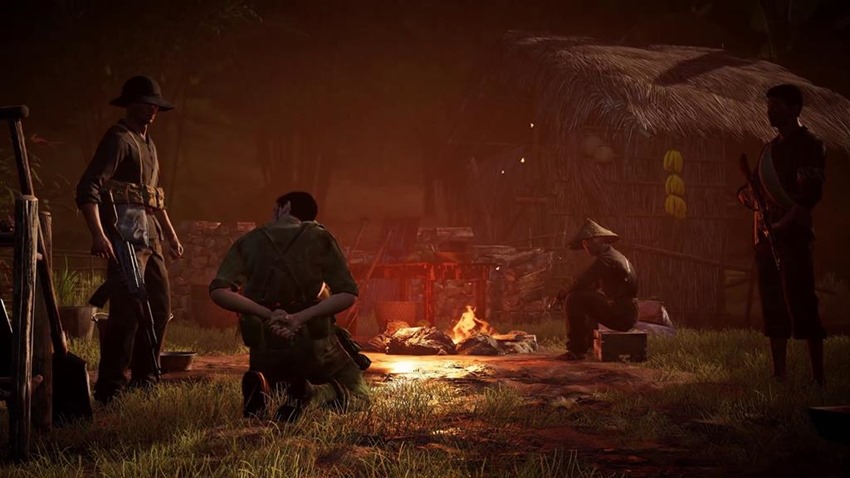 Right fellas, I'm going to make a Vietnam war movie. Get me a ragtag group of soldiers with personalities louder than their guns and make certain at least one of them is a controversial Australian thespian who undergoes an operation to darken the pigmentation of his skin so that he can play the African-American lead. Also, I'm going to need a soundtrack that is a mix of Creedence Clearwater Revival, the Rolling Stones and that super-dramatic tune for when someone gets shot.
You know the one, it goes all like "wheeeeeeeey-heeeeeeey-yaaaaaaaaay". What do you mean Tropic Thunder already did all that? Frack, my ideas have been stolen again. Damn you Hollywood, damn your oily thick hides again. Bugger this for a song, I'm going to go play the Far Cry 5 story DLC then. Which will be out pretty soon!
Yup, Hours Of Darkness will drop on June 5, taking Far Cry 5 players out of the Hope Falls county and into the jungles of the Vietnam War. Previously hinted at by war veteran Richard "Dutch" Roosevelt, the new expansion will task players with a rescue operation as they step into the boots of the unfortunately-named Wendell "Red" Redler.
Here's a trailer for it:
BUT WAIT, THERE'S MORE! Hours Of Darkness will feature the usual solo and co-op gameplay which will most likely last a few hours at best. It's after the story ends, that things get interesting. Players will have two new modes to try after the end credits have rolled, in the form of a Survivor Mode that limits your inventory of guns and homeopathic remedies, while also getting the chance to go full Rambo in Action Movie Mode.
Which basically sounds like the massacre scene from Hot Shots Part Deux:
Hours Of Darkness is the first story expansion in a three-pronged strike from Ubisoft. As for the rest of the year, you can expect a trip to the red planet in Lost On Mars and the proper apocalypse in Dead Living Zombies. Oh, one more thing! Remember Far Cry 5's ace soundtrack? Well Hours of Darkness has one as well. Here's the Spotify embed for you to listen to:
Last Updated: May 25, 2018