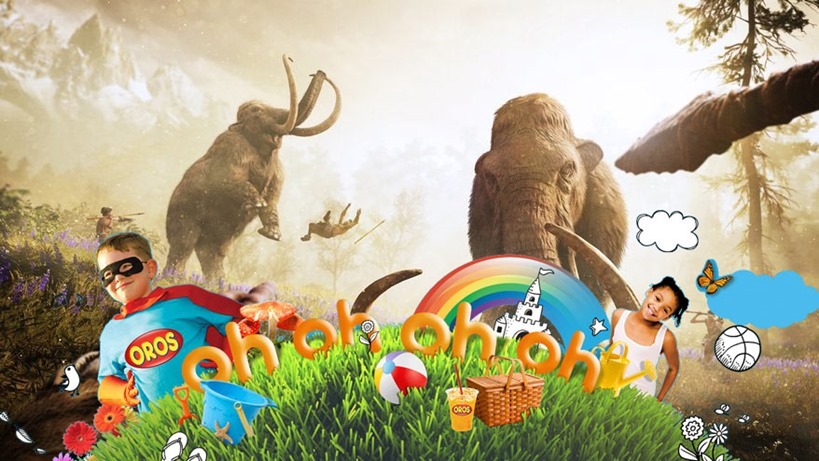 Yesterday, when we reported on the leaked news of Ubisoft's next Far Cry, Primal, we'd hoped the game would be a tongue-in-cheek bit of silliness, a $15 bauble like the fun and silly Blood Dragon. It looks like that's not the case, and the game will be a proper, fully fledged Far Cry game. That means it'll sell for a $60 price.
Here's what it's all about:
"Welcome to the Stone Age, a time of omnipresent danger and limitless adventure, where giant woolly mammoths and saber-toothed tigers rule the Earth, and humanity is at the bottom of the food chain. As the last survivor of your tribe, you will learn to craft a deadly arsenal, fend off fierce predators, and outsmart enemies to conquer Oros and save mankind.
The award-winning Far Cry franchise that stormed the tropics and climbed the Himalayas now enters the original fight for mankind's survival with its innovative open world gameplay, bringing together massive beasts, breathtaking environments, and unpredictable 360-degree combat in one savage package."
Here's a list of the game's features.

RISE ABOVE EXTINCTION: Conquer your land, and your enemies, in the original fight for mankind's survival.
EXPERIENCE THE STONE AGE BY FAR CRY: Enter an open world sandbox filled with the unpredictable chaos and peril that the best-selling Far Cry franchise is known for.
CONQUER EPIC BEASTS: Hunt down dangerous predators, like the savage saber-toothed tiger and the elusive woolly mammoth.
BECOME THE APEX PREDATOR: Defeat the deadly tribes of Oros as you fight to unite mankind.
DISCOVER THE DEADLY WORLD OF OROS: Fight to survive amid lush redwood forests, harsh taiga, frozen tundra, and murky swamps.
It sounds to me like it's taken a cue or two from Ark: Survival Evolved, only without the rideable dinosaurs, which is a bit of a bummer. It also seems like scavenging, hunting animals and crafting stuff has taken front and centre. Honestly, that's never been my favourite thing about Far Cry, and I don't think I'll get much joy from mercilessly killing digital animals this time around either.
I also struggle to take the game seriously when its setting is named after a sugary drink, but that may just be me.
Far Cry Primal is set in 10,000 BC, which according to Creative Director Jean-Christophe Guyot is a great setting for the franchise.
"The Stone Age is the perfect setting for a Far Cry game. Far Cry usually puts you at the edge of the known world, in a beautiful, lawless and savage frontier. The Stone Age is, in a way, the very first frontier for humankind; it's the time when humans put a stick in the ground and claimed land for their own, the time when we started climbing the food chain. That came with conflict against other humans, of course, but also against nature itself."
A Far Cry without guns? Okay then. It will, however, presumably have you climbing up trees to unlock maps or something.
Last Updated: October 7, 2015