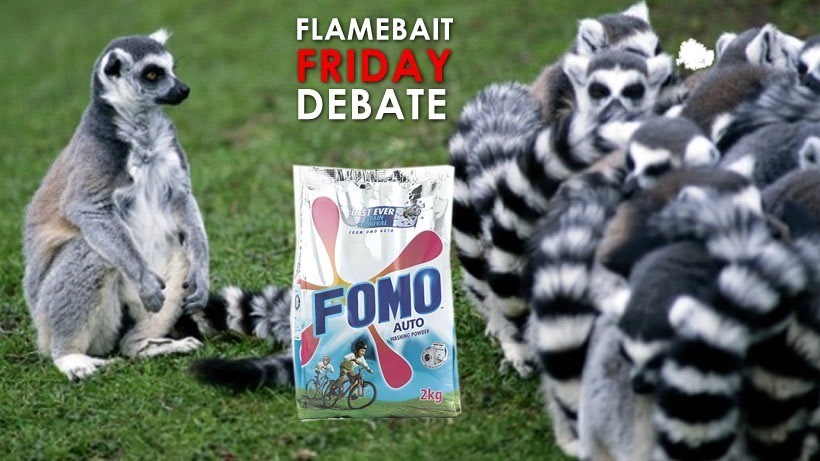 Right now, the vocal, video-game centric bits of the internet are all talking about Fallout 4 and to a lesser extent, Rise of the Tomb Raider. That doesn't mean, of course, that all of you are playing them.
Instead, you get to sit on the side-lines while people talk about the thing's they're doing in Fallout, how they're building their settlements, what sorts of mods they're putting on their guns. Some will (especially from today!) talk about some of the clever Tombs Lara has to get through.
It's especially egregious in this age of social games, and social media. I remember when Destiny's infamous loot cave was discovered, and how almost all conversation at the time centred around the cave run. It's something I even found myself doing (before I decided that I hated Destiny, of course) – and the social aspect of it is something that Destiny covered in a blog update.
"The social experience of a cave farming run is amazing: the herding to get a team of Guardians all behind the line and firing in the right direction, the rush to grab the loot, the scramble when the panic wave starts, the beckoning glow from inside the cave. The speed at which the community organized around this activity was inspiring and humbling to us.

But shooting at a black hole for hours on end isn't our dream for how Destiny is played. Our hope is that social engagement in public spaces is only one part of the Destiny experience. Expect changes soon which decrease the efficiency of cave farming and correspondingly increase engram drops from completing activities."
It happens with all big games though. Metal Gear Solid V had people everywhere talking about fultoning sheep, The Witcher 3 had the internet chatting about Gwent. It can lead to fears of missing out – feeling like you're not part of some cultural zeitgeist. And then it can lead you to running off and spending your money on a game that you neither want nor need. Perhaps you've even bought Call of Duty: Black Ops3 this year, despite hating the series. Such is the power of hype, and the fear of missing out.
How do you deal with that feeling of exclusion, or are you impervious to the hype, resolute and wavering? I feel it, certainly, when there's great big bits of hype surrounding big multiplayer games – before realising I hate other people.
Last Updated: November 13, 2015