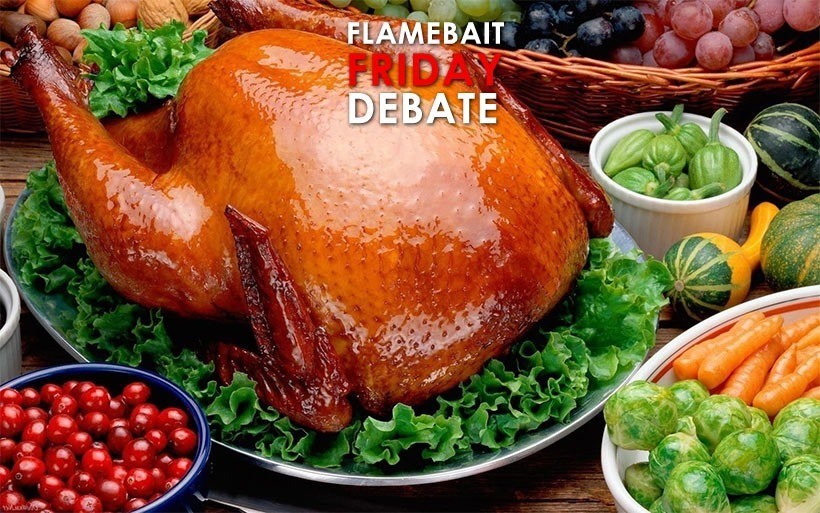 Gosh, it seems like the world of videogames lately is all about whining – and little else. Games are broken, games aren't as good as expected, games aren't representative enough, games are two steps away from being porn. Season passes and DLC are ruining everything! It seems there's nothing but complaints and arguments.
Instead, in the spirit of yesterday's American Turkeyfest Thanksgiving, why don't we discuss what we're thankful for, in the realm of videogames?
Darryn says he's thankful for wireless controllers, because he either trip himself or get tangled whenever playing games before – so the advent of wireless communication has quite literally saved his life.
Zoe's thankful for camera controls that aren't terrible – and I think we really have dual-sticked analogue controllers to thank for that. She also mentioned auto-saves, but we all know that gaming was far better when we had to obsessively hunt for save opportunities.
Gavin, grumpy contrarian that he is, said he's thankful for "constant never-ending updates," later changing his mind to say that he's thankful Psyonix developed Rocket League. Matthew's away, and frankly, we don't care what Alessandro's thankful for seeing as he's just a child and doesn't know any better.
Me? I suppose I'm thankful that 30 years later, I'm still playing great games – and really, there are great games. I've played some of my favourite games ever this year – with gems like Ori and the Blind Forest, King's Quest and The Witcher 3 and Rise of the Tomb Raider… just a handful of games that are jogging my memory right now.
Tell us! What are you thankful for?
Last Updated: November 27, 2015