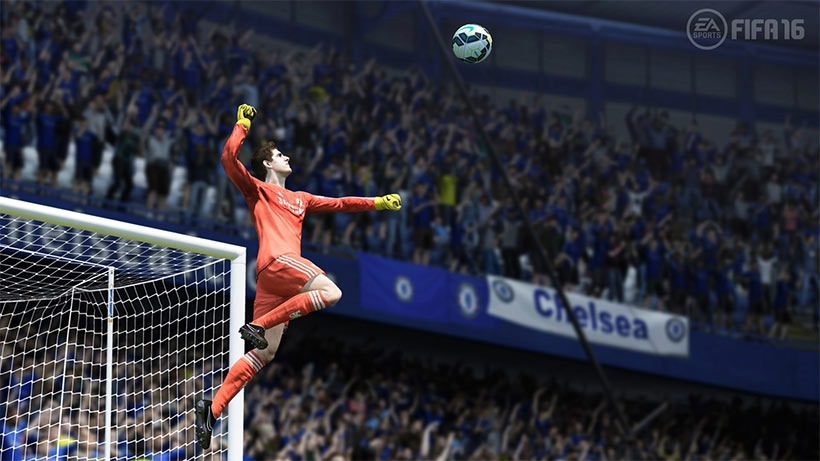 The general consensus is that this year, Pro Evolution Soccer 16 is miles ahead of its stalwart competitor FIFA 16. Despite the licences, the development budget and everything else afforded to EA, what they've failed to capture is the heart of football.
That doesn't mean that they're still not actively trying to make the game better. There's a new patch out for FIFA 16 that addresses some of the complaints football game pundits have had about this year's iteration.
Here's what Title Update – fancy for patch – 1.02 addresses:
The update includes general stability improvements and addresses the following items identified by the community and the FIFA team:
Optimized goalkeeper rushing, AI, and positioning.
Improved player wage accuracy in Career Mode.
Addressed referee/kit clashes.
Addressed an exploit in Virtual Pro leaderboards.
Addressed a shot missing the top corner and still being called a goal.
FIFA Trainer button tuning.
Player clipping during intro sequence in certain stadiums.
The update also addresses the following FUT items:
EA SPORTS Football Club shared squads not showing players in FIFA menus.
Relisting Transfer List items not retaining previous price settings.
Error message when attempting to apply a contract consumable.
Away crowd wearing incorrect kit.
Some returning users experiencing an issue when naming their club.
Controller disconnecting in FUT modes.
It's available right now, funnily enough, to PC gamers – with the patch hitting the consoles at a later, as yet unconfirmed date. It should, however, be rather soon.
Hopefully it also addresses EA's online servers for the game, which haven't been performing as they should, with many players outside of Europe and the Americas struggling to play games, particularly FUT ones, online. That doesn't seem to be addressed by the title update, so I t may be a while yet before the game plays the way it was intended to.
Are you playing this year's FIFA? What do you think? Have you picked up both football sims? Which is the better buy for a newcomer?
Last Updated: October 7, 2015