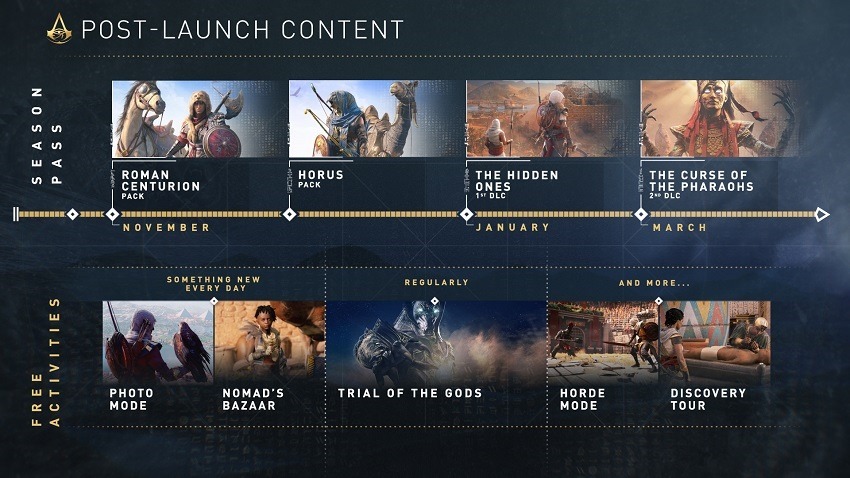 Assassin's Creed Origins is shaping up as the true series soft reboot that I, as a fan, have been waiting for since the conclusion of the Ezio trilogy. Its massive leap back in time is being met with some big changes to the traditional combat, exploration, modes and more, but even Ubisoft struggle to let go entirely of the past. As with previous entries, Assassin's Creed Origins will have a season pass full of post-launch content. But at the very least a lot of it sounds quite fun.
While Origins is all about the formation of the Assassin Order and the beginnings of their feud with the Templars, the two big DLC packs for the game are using its setting for more fantastical purposes. The roadmap includes content bursts all the way up to March 2018, where the season pass will conclude with "The Curse of the Pharaohs". And if the promotional art doesn't give it away, that's going to be about slaying some really (should still be) dead Egyptian kings with all your swords you've picked up along the way.
In addition to that, The Hidden Ones will be a more Roman-themed epilogue for the main game that launches in January. Both packs will star Origins protagonist Bayek, even if it might derail the story the core package is trying to tell. Ubisoft is also adding some smaller, quality of life features to try and keep you coming back frequently to their game. The Trials of the Gods live event will happen regularly, for example, and give you some new, strange enemies to fight by ways of a Animus glitch (yes, that machine still exists).
There's a whole bunch more in the developer diary and roadmap above, but it sounds like perfectly chunky content to sink your teeth into if you happen to be a fan of the main game at the end of this month. And if Assassin's Creed zombies is anything like what Red Dead Redemption did those many years ago, I'm all in.
Last Updated: October 10, 2017