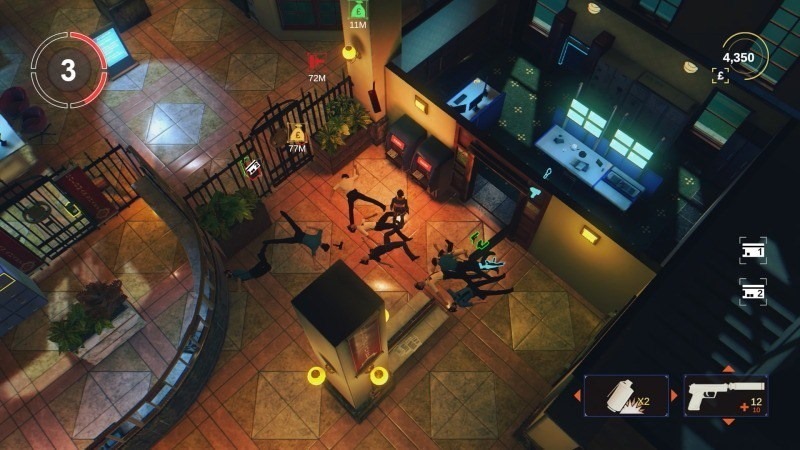 Filthy Lucre is far from being perfect, but it still manages to be a fun game. If you can overlook its flaws, such as poor AI or odd design choices, you'll find some enjoyment, particularly if you're a fan of the stealth genre.
That in a nutshell, is how I felt about Filthy Lucre – a stealthy top-down shooter with British gangster twist. It got some elements of the genre right, but others, sheesh, not so much. Moving bodies is impossible for example, which as you can imagine for a game of this nature, is nothing short of infuriating, and source for much anguish.
Thankfully, the developers have been paying attention to what fans have had to say following Filthy Lucre's original release a few months ago (via PC Gamer):
"We learned a lot from our PS4 launch back in September," said Fabrik Game's CEO, Graeme Ankers. "Together with community and player feedback, the team has worked tirelessly to give Filthy Lucre a sparkling launch on PC!"
Hang on, the game is coming to PC? Yes, yes it is! On December the 12th, for $17.99, £13.59, or €17.99, you too can go about helping Ronnie Shanks settle the score with his rival, Harry Carter. The PC version will have some improvements over the original too:
"Players love the stealth experience of Filthy Lucre so we've added new features including the ability to move bodies and a noise meter to help avoid detection. We've done a full pass over the game tuning every element from core combat to enemy AI behavior."
Better enemy AI? The ability to simply move a body out of the way? Hallelujah! Honestly, those two changes alone will make Filthy Lucre so much better!
As a side note, If you have a PS4 version of the game, don't worry, you're getting those core changes too in the near future:
The PS4 version will also get these changes. Its a MAJOR update to the core gameplay, lots of improvements & changes

— Fabrik Games (@fabrikgames) November 1, 2016
Anyhow, the Steam page for Filthy Lucre isn't up just yet, but it should be pretty soon. When it does appear, expect a neat launch special of 40% off.
Last Updated: December 6, 2016