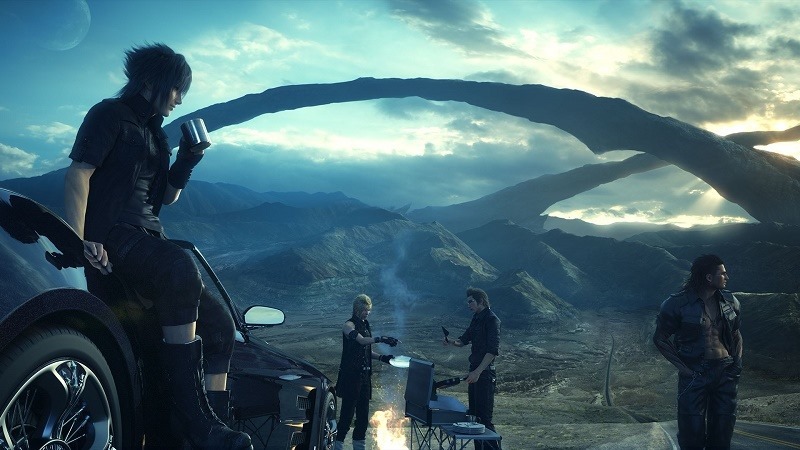 I do not believe in hype, because I know it can lead to bitter disappointment. If I can help it, I stop myself from setting my expectations too high. I achieve this by cutting myself off from any sort of promotional material tied to a game that I know I'd like to play.
Thus far, I've been good with Final Fantasy XV. As a firm fan of the franchise, you must understand the sort of willpower it's taken to ignore everything Square Enix have put out about their highly anticipated JRPG.
I have slipped up here and there admittedly. At E3 for example, I couldn't not watch the one gameplay demonstration during one of the conferences. Before that even, I dabbled with the Platinum demo, but that was only so I could get myself the exclusive Carbuncle summon.
Overall though, I'd like to think I've been pretty good. With Final Fantasy XV a short month away from release, my hype meter sits at normal levels.
But then Square Enix went ahead and announced that their game had gone gold at Paris Games week, followed by a new unbelievable trailer that I just couldn't hold myself back from watching. I regret nothing though! Trust me on this; drop everything you're doing, crank up the volume, and give this video a watch – you can thank me later.
A rapidly shifting world, enemies that appear endlessly, gradual loss of abilities… and a madness that brings harm to the beloved fiancée. This epic production, which can only be described as a nightmare for the struggling Noctis, is a collaboration between Final Fantasy XV and DIGIC Pictures, the world-renowned 3D animation studio that also took part in the creation of Kingsglaive: Final Fantasy XV.

This beautiful yet violent vision inspired by the world and story of Final Fantasy XV depicts an "omen" for Noctis' father, King Regis, of a catastrophic future that must be avoided.
Despite knowing next to nothing about the characters, locales, and so on, I had goosebumps the entire time. I can only imagine what those who've followed every bit of news from the very beginning must be feeling. Hats off to DIGIC Pictures and Square Enix – this trailer is phenomenal! The editing, music, and everything else is just so on point. Goddamit, now I'm hyped!
Anyhow, before I get too get carried away, apart from the going gold and trailer, Square also went into more detail regarding the game's DLC. One, believe it or not, is going to feature online multiplayer (via DualShockers):
The main focus of the Season Pass is three original episodes that take place during the events of FINAL FANTASY XV. Each episode allows players to take control of one of Noctis' comrades in all-new adventures that offer unique play styles tailored to each character. Players can explore previously unseen areas filled with new monsters, and even obtain weapons that can later be used in the main game. Episode Gladiolus is the first new character adventure to arrive, and will be followed by Episode Ignis and Episode Prompto. Each episode will be available for purchase individually.

Following the release of the character episodes, Comrades—an expansion pack for FINAL FANTASY XV—will introduce a brand-new online co-op mode for up to four players which features intense battles allowing players to take full control of Noctis, Gladio, Prompto and Ignis as a group. Comrades will be available for separate purchase, and is also included in the Season Pass.
Look, I'm stupidly excited for Final Fantasy XV now, but also, semi annoyed. What's the big idea, hiding something like online multiplayer within DLC? Not cool Square Enix, not cool. Good thing you just blew me away with an epic trailer, else I'd be really mad!
Last Updated: October 28, 2016