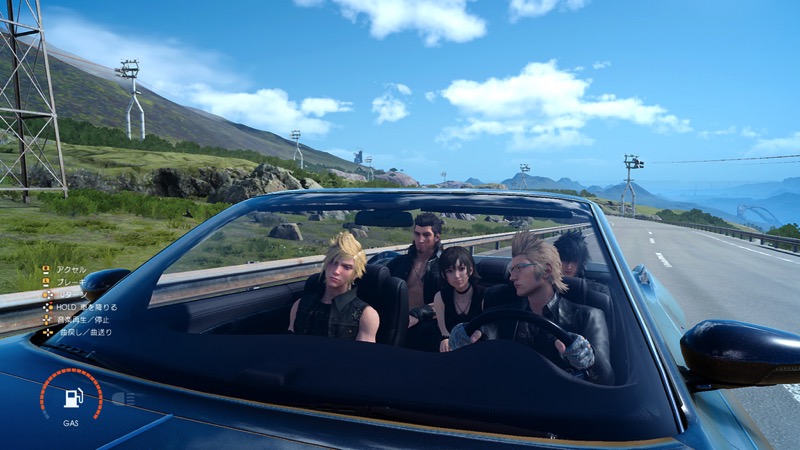 Okay, I know it's just fantasy, I know it's just a game. I mean, these guys are going to go up against monsters that are 100 times their size, fly through the air while attacking, and have all kinds of magical powers. But, in these new screens for Final Fantasy XV (thanks DualShockers), it appears that Noctis and his crew don't wear seat belts. Really? You're doing a long, high-speed cross country trip and no one is buckled up? Is this such a futuristic luxury vehicle that it holds you in place in the event of an emergency, or do they just use their magical powers to be safe in the event of a collision?
Okay, enough about car safety – we do get some new info about FFXV.
Various shops are scattered around the world, each with an unique appearance. The store includes a variety of items, including potions to recover HP, ingredients for cooking, and miscellaneous merchandise that it's fun to discover.

The diner lets you take care of your hunger, including cuisine that can be eaten only locally. It also provides convenient information on the area and it's where you receive rewards for the "Mobhunt" quests.
I really like the approach to shops. It's a cool idea to shop out of the back of a truck at a pit stop, or that each shopping experience will look and feel different. It will definitely make me want to explore more, seek out new shops and new items or merchandise. Just check out all these gorgeous screens.
September 30th is just around the corner, right? Not too much longer to wait until I can get my hands on this, explore the world and hopefully not get into any fatal car crashes. I am far too excited for this one – I think I will easily lose a hundred hours or so to this experience.
Last Updated: July 22, 2016