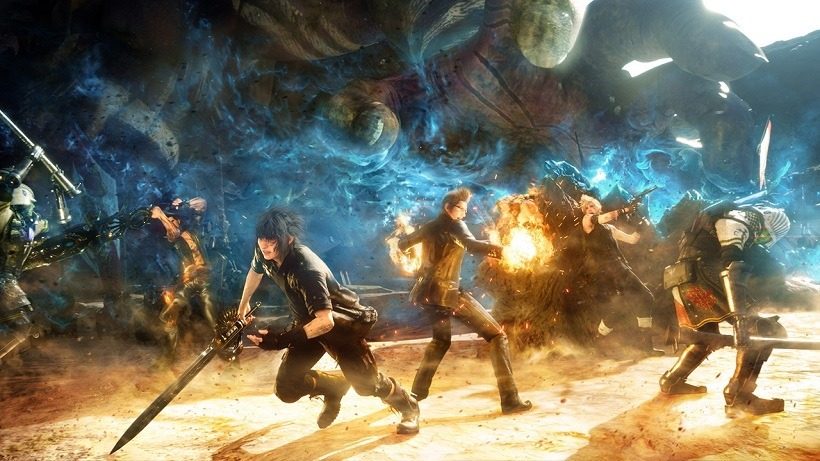 Especially if you're not looking at the upcoming JRPG primarily for combat and open-world exploration. Story is integral to any JRPG experience, and Final Fantasy XV is going all in on the tale of Noctis and his band of merry friends. We've already had Kingsglaive – a prequel to the events of the game – to set the stage up nicely, but a new trailer from the Tokyo Games Show gives a little more insight into some of the new characters and their motivations.
So, needless to say, it might be a trailer you want to steer clear of if you're looking to dive in completely blind this November. I wouldn't say there's anything spoiled, but it's certainly a large, character focused info dump that might make the wait that much harder. It also shows off a more serious tone than previous trailers, which just shows that all the rad tomfoolery that the game's marketing has somewhat focused on wasn't bound to last forever.
There's some heavy handed exposition (it's a JRPG after all), but I can't get over just how gorgeous it all looks. Final Fantasy XV might seemingly be struggling with performance (as most hands-on sessions seem to indicate), but it's clear here that Tabata and his team really are trying to dial the visual splendour up to 11.
It's an example of a game that everyone should keep their eyes locked on with the imminent launch of the PS4 Pro. While the console is geared more towards 4K, Final Fantasy XV might be one that would benefit from the extra horsepower. Especially if most builds on the regular PS4 up until now have been struggling a bit.
It would open up the discussion around the viability of the PS4 Pro wide open, as will many other third-party titles seeking to push visual boundaries like this. But we'll know for sure in just two months time.
Last Updated: September 16, 2016