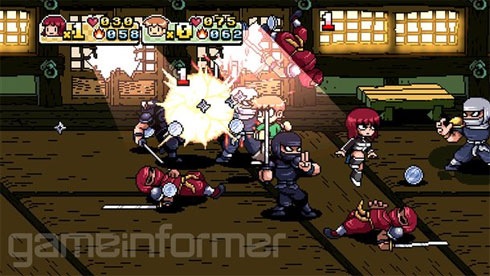 With news that the Scott Pilgrim movie will only be releasing here towards the end of November, many of our geekier friends were upset. Understandably so – The film is based on a rather fantastic series of graphic novels that are rich with video game references, indie rock and general awesomeness.
Thankfully we'll be getting the video game tie in – which looks like it's pretty faithful to the comics – a little earlier, provided you have a PS3, as it'll be a timed exclusive to Sony's system. Game Informer's had a look at a preview, and It looks rather fantastic, filled with retro-gaming goodness and reminiscent of one of my favourite NES games, River City Ransom.
The game is set to feature 4 different playable characters, ninja magic, shops for supplies, and boss fights. It appears to be an old-school brawler, with you standard two attack buttons, blocks, throws, counters, ground strikes, weapons, jumps, dashes, and grapples – as well as new moves which are unlocked as you gain experience and level up.
Unfortunately, there's no online play – but these sort of games are always better when played in couch co-op mode. For Xbox owners, Ubisoft have no word on when the game will be available for your system – so there's little indication of how long you'll have to wait after its August PSN release.
Source : GameInformer
Last Updated: June 9, 2010