Last week WWG reported that Assassin's Creed would indeed be returning this year, and be taking the series back a few hundred years to Ancient Egypt. The game, which was thought to be called Empire following a report from Kotaku last year, had been renamed to Origins, and would serve as a prequel to the franchise. Fast forward a week and it seems the first screenshot for the game has now leaked too, confirming virtually all the details that have come before it.
The off-screen screenshot shows an assassin on a boat, which serves to confirm that some form of naval combat would be returning to the series (given its popularity in Assassin's Creed IV: Black Flag). The assassin in question also seems to be wielding a bow and arrow, along with a shield that they carry on their back. The shot bears the mission title "Assassinate the crocodile" on it too, with "Follow Shadya to Khenut's villa" as a sub-text. Khenut was an ancient Egyptian queen, which serves to confirm that the game will be taking place there too.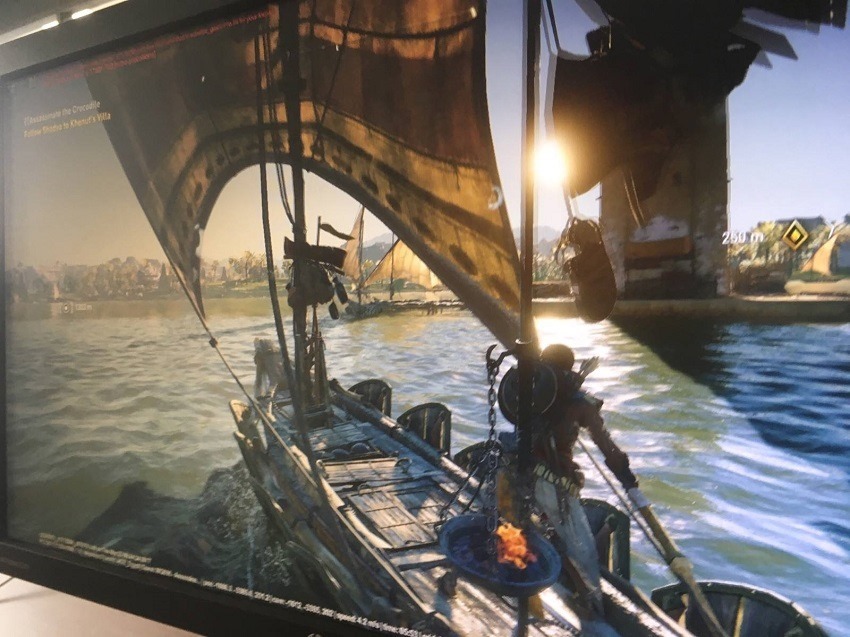 The screenshot made the rounds before being picked up by Eurogamer, who confirmed with their sources that it was in fact real. Their report corroborates the one by WWG last week, with their sources confirming the setting, prequel nature of the game and launch platforms: Xbox One, PlayStation 4 and PC. Liam Robertson, the original author of the WWG report, said that he hadn't heard anything about a Nintendo Switch version, but didn't think the game he saw could run on the hybrid console.
Re: Assassin's Creed Origins on Switch – I've heard nothing. I saw some PC stuff and it looked like it couldn't run on Switch tbh.

— Liam Robertson (@Doctor_Cupcakes) May 9, 2017
With E3 around the corner, it won't be long until Ubisoft reveal Assassin's Creed Origins formally, with the stage at the conference show acting as a perfect spot for our first look at gameplay. That's if that too doesn't leak before then.
Last Updated: May 10, 2017