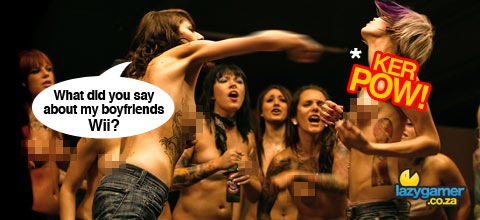 Happy Friday folks, it's the weekend and we here at Lazygamer are all extremely revved-up and excited to go home and do absolutely toss-all. It also means that it's time for our Flamebait Friday Debate.
Motion controller thingamawhatsits are all the rage with the kids these days, aside from that damned devil's music, what's it called? Oh yeah, Hannah Montana.
Nintendo has been absolutely dominating this generation with the Wii and it's grandpa-friendly motion controllers but the HD boys are coming to town and they want blood.
Sony is introducing the Move, which looks to finally offer gamers the true high-definition hardcore motion-controlled experience that they have all dreamed about. Nintendo has just recently released the Wii Motion-Plus, which is what many believed the original Wii would already be. With their popular IP's and wizards of game creation, they are still definitely in the game.
Microsoft's Project Natal wants to use your body instead, leaving controllers and buttons out of the mix completely. They are also marketing it as more of a complete living-room experience, with voice and facial recognition rather than just a motion-controller for games.
So which one is going to come out tops? Is Sony going to steal the Wii's thunder, are Nintendo always one step ahead or will Microsoft surprise the world with something completely different?
Let's hear it folks. The gloves are off.
Last Updated: April 23, 2010