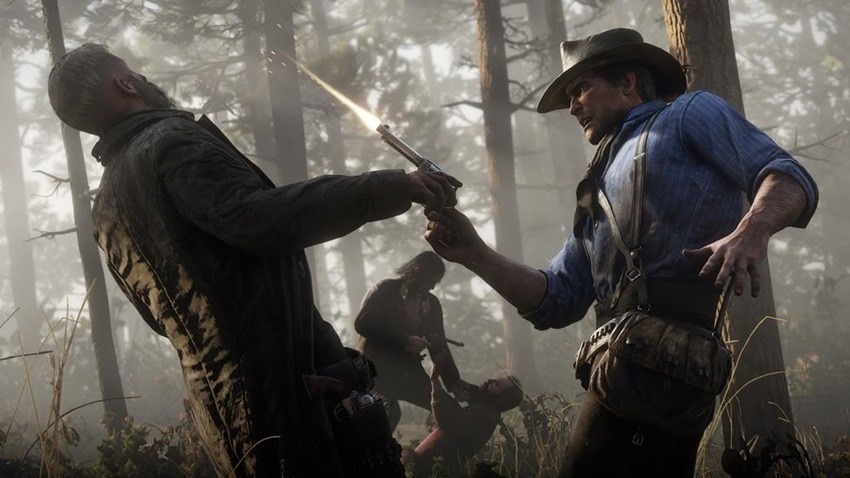 Every year there's a new Call of Duty game, and just about every year it's the best-selling game in the US within those 12 months. This has been very nearly constant through the last two generations of consoles. Last year, however, was the first year since 2013 that Activision's juggernaut brand didn't come out on top.
It wouldn't take much guessing to figure out which game did take the top spot this year. Of course it was Red Dead Redemption 2, which, with only two months of sales tallied, is the best-selling game of 2018. What makes this especially noteworthy is that this happened in a year with an objectively good Call of Duty, which has gone on to sell by the bucketload anyway.
In 2013, Call of Duty clinched the second spot with arguably the first weak game in the series in years: Call of Duty: Ghosts. Can you guess which game came out on top then? Yes, that was the year that Rockstar released Grand Theft Auto V, so it's no surprise that was the year's best seller.
It's certainly an achievement for Rockstar. They release games so infrequently, but they invariably end up selling unfathomably well when they do. According to many, Red Dead Redemption 2is the finest game this generation – but it's just one that I could not be arsed enough to play. Every single time I sit down to give it a go, it feels too much like work so I play anything else, or do anything else. I'd rather do house chores than play it. Red Dead Redemption 2 is just not for me then, but its tickled millions of players worldwide, so it's definitely doing something right.
As for the rest of 2018's best sellers? 2K's basketball sim NBA2K19 came in at 4, while EA's Madden NFL 19 came in at four. The first exclusive on the list is Super Smash Bros Ultimate on the Switch at five, which managed to beat the PS4's Spider-Man. Smash Bros Ultimate also now has the honour of being the best-performing exclusive of all time for launch month, beating out 2010's Halo Reach. Far Cry 5 outsold God of War 2018, while Capcom's Monster Hunter World beat out Assassin's Creed Odyssey, which takes the tenth spot. Battlefield has taken a huge dive this year, only coming in at number 14 on the US sales chart. Six of the top twenty games were published by Nintendo; three by Take-Two Interactive and EA; two by Sony, Ubisoft, and Activision-Blizzard, and one each by Capcom and Bandai Namco.
Last Updated: January 23, 2019