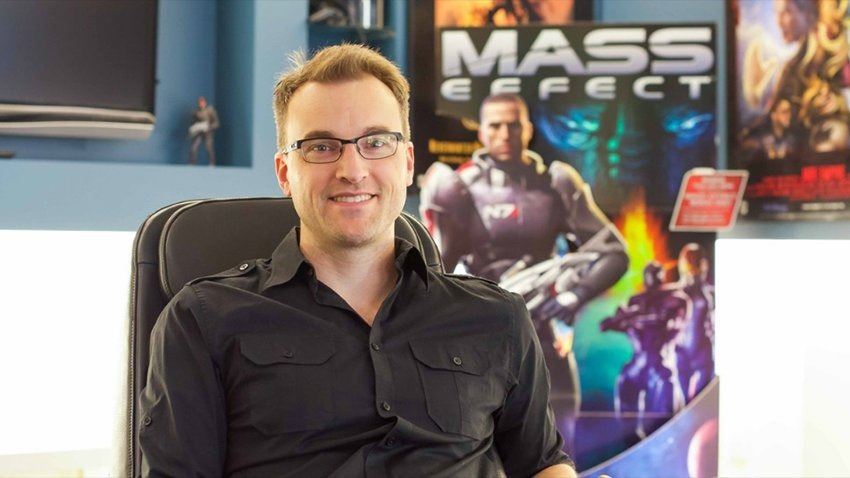 There's a commonly-held belief that executives at EA are all evil, money-grubbing suits who don't understand games. Instead, all they're after is profit – and will mandate specific practices on creative teams to extract as much cash from the consumer base as is humanly possible. That may or may not be true – but according to former Bioware general manager Aaryn Flynn, it's a bit of fiction.
Speaking during Kotaku's Split Screen podcast at this year's Game Developers Conference last month, Flynn set the record straight about many things, including the perception that EA forced things like microtransactions and the switch to the Frostbite Engine, which many believed was an EA cost-cutting measure.
"Not in my experience, no," Flynn said about the idea of EA forcing microtransactions. "They have an ambitious business plan and they want to do certain things, everything from growing market share to entering new markets, but those are very good goals, there's nothing controversial about those goals. They have a very solid business plan that everybody is aware of and everybody works hard to deliver."
He asserts that EA gave creators freedom, within reasonable constraints.
"I think they are a great company to be a part of because they care very much about the creative process – they care about that – so they want you to be successful, and they will do whatever they can to help you be successful. Every company has got constraints and things you gotta do, things you have to get done, but they are excellent at giving creative freedom for sure."
As for the shift to Frostbite, Flynn says it ended up being his choice.
"It was our decision. We had been wrapping up Mass Effect 3 and we just shipped Dragon Age II and we knew that our Eclipse engine, that we shipped DAII on, wasn't going to cut it for the future iterations of Dragon Age.

It couldn't do open world, the renderer wasn't strong enough, those were the two big ones. We thought about multiplayer as well, as Eclipse was single-player only.

We talked internally about three options. We could have burned down Eclipse and started something new internally, we could have gone with Unreal Engine, or we could have picked Frostbite which had shown some really promising results on the rendering side of things and it was multiplayer enabled.

When it came down to it, we talked to folks and they really liked the Frostbite option and again, back to this idea of being part of a community, there were more and more teams [at EA] that were considering Frostbite. It was a decision that I made after all of the technical deep dives in probably late 2011."
Flynn left Bioware in 2017, so it isn't a bit of forced prose to serve his masters. Former Bioware executive produced Casey Hudson replaced him to lead the team for Bioware's next big game, Anthem, which is due next year.
Last Updated: April 9, 2018