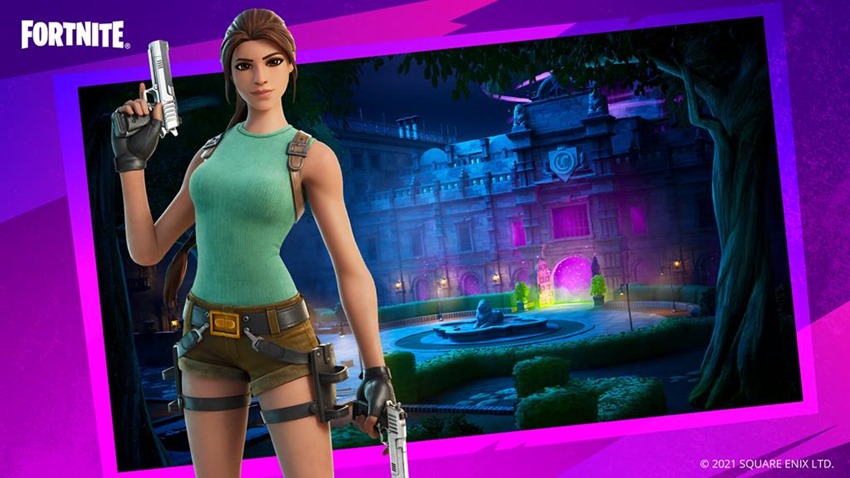 Fortnite's back with not only a new season, but a rather cool crossover that celebrates 25 years of one of the biggest icons in video games. Lara Croft's looking better than ever, and if you'd like to spend some time in her stately manor then now's the time to head on down to Fortnite's Creative mode for some classy exploration.
Even faithful butler Winston is hanging around, and he's clearly been up to something as Lara needs to figure out why there are strange lights illuminating the joint up like nobody's business. From the trailer, it looks like a classic Tomb Raider location brought to life that's filled with secret chambers behind bookshelves, staircases to do dramatic stunts off of, and a lot more lava than I remember. Huh, guess molten magma must be the in-thing these days in British architecture.
There are also a few other Easter eggs, all providing a nod to Croft's 25 years as a two-fisted explorer of ancient antiquities if you keep your eyes open.
For the uninitiated, Creative Mode in Fortnite allows you to design your own maps, games, and experiences within Fortnite and then share the end result online. Some of them are great! Others were clearly designed by a madman who rewrote the laws of physics or probably spent way too much time building torture courses in Super Mario Maker 2. You'll only have until March 30 to visit Croft Manor, but you can use the code 0116-9392-3142 to find the creation in the future.
Some fun trivia about the mansion while you're here: It was originally designed to be included in the first Tomb Raider game, but due to time constraints developer Core had to scale back on how much of the estate players could explore.
The library, a music room, the main hall, which is filled with crates, the ballroom, and the pool were the only sections you could waffle around in, as going outside wasn't on the cards. Tomb Raider II expanded on the manor massively and added outside areas to explore, and Tomb Raider III features multiple renovations.
In both sequels, using a corner glitch allowed the player to access the roof of the manor. In Tomb Raider II this gave you immediate access to the secret switch in the hedge maze and access to the balcony off of Lara's room, while in Tomb Raider III the roofalso lets Lara access the race track. And now you know!
Last Updated: March 24, 2021