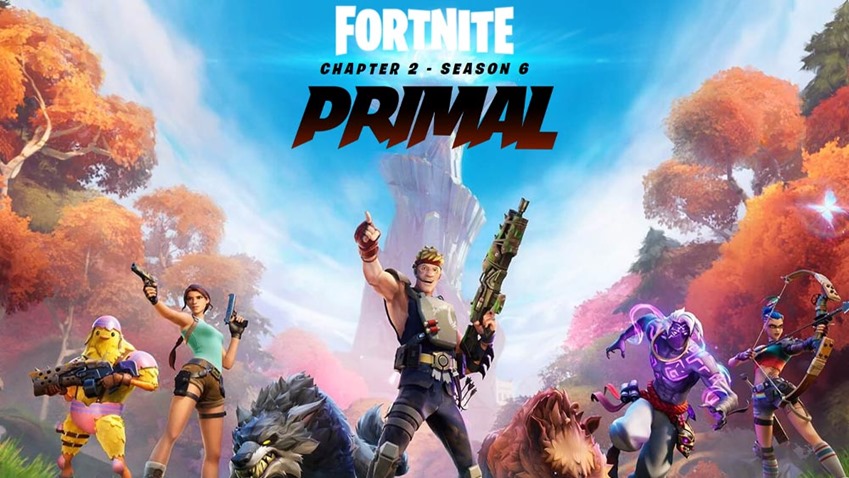 Fortnite isn't just the biggest game on the planet, it's pretty much the closest we'll ever get to a real-life version of Ready Player One thanks to the number of pop culture cameos inside of it that drives people to stick around its babble royale battleground. Season 6 of Fortnite Chapter 2 has officially begun, and with a fancy new launch trailer in tow, there's plenty of content on the horizon.
The main event is the game's Zero Crisis Finale, the ability to craft primal weapons, and a much wilder island to explore that's crawling with all manner of creatures to admire. And fill with lead, probably. You'll probably want to do some hunting, as the new crafting mechanic will let you build makeshift weapons from animal remains and spare technology. Trust me, you can definitely use frog guts to form a bow string.
The map itself is also changing once again, this time with primal biomes adding a forest flavour, the Zero Point being replaced by a new spire, and an all-new city cropping up. "The wilderness has taken over the island's locations, like Colossal Crops and Boney Burbs. If you venture to the edges of the primal biome, you'll find guardian spires protected by mysterious forces," Epic's blog post for the new season reads.
This season's battle pass doesn't shy away from unlockable skins either, as you'll be able to unlock new looks that dress you up as Lara Croft from Tomb Raider, Raven from Teen Titans, and some Brazilian soccer guy called Neymar, whoever that is.
Sounds like a fun time ahead! There's likely no new Tomb Raider game being announced this week at the Square Showcase, but at least Lara will be doing something new this year. Even if it is in another game entirely.
Last Updated: March 16, 2021