Much like this year's Marshmello concert, players will be able to gather at Risky Reels drive-in to watch the scene in a moment of collective peace.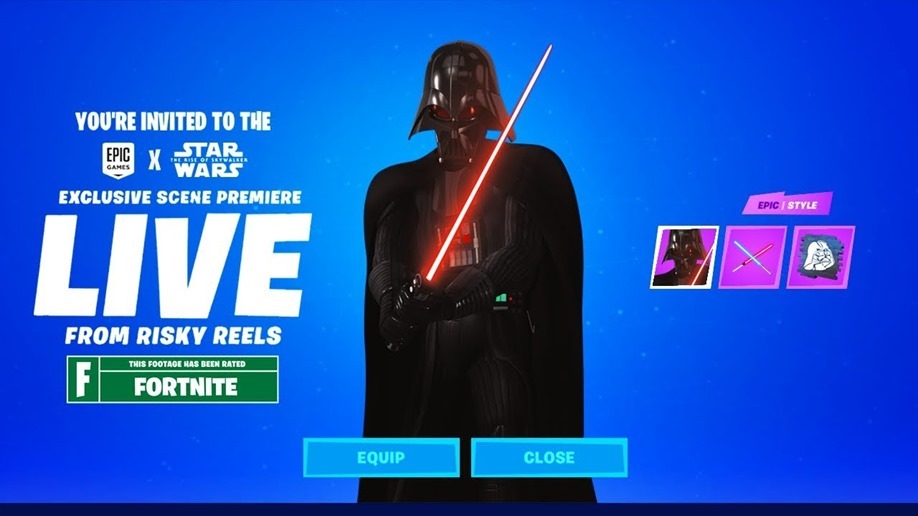 While to most of the world Fortnite represents the current pinnacle of online gaming as it hurtles towards owning the illustrious title of "Cultural Touchstone" (something I would argue it's already achieved), to corporations such as Disney it's an extremely efficient way of promoting their products.
Such was the case with Wreck-It Ralph, who appeared on the screen of the game's drive-in to promote the release of Wreck-It Ralph 2: Ralph Breaks The Internet in 2018. To a lesser extent, the hosting of an in-game Marshmello concert promoted a similar platform for the EDM DJ. Now Disney is back at it again, announcing that Fortnite will host the exclusive premiere of a scene from the upcoming Star Wars: Rise of Skywalker trailer.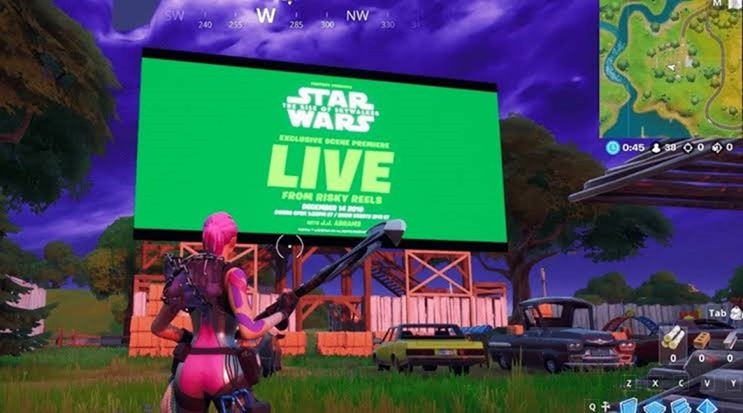 All around Fortnite Battle Royale's map posters have begun to spring up advertising the event, stating that the showing is set to kick off on December 14th and, it seems wild to say the next sentence, doors for the in-game event will open at 20:30 CAT and the showing will start at 21:00 CAT. The posters also say that the showing will take place with J.J Abrams, the director of Star Wars: The Rise of Skywalker although what this actually means has yet to be confirmed by either Disney or Epic Games. This isn't the first time Star Wars has crossed over with Fortnite, as earlier this year players were able to unlock Stormtrooper skins and see a Star Destroyer fly gracefully over the map.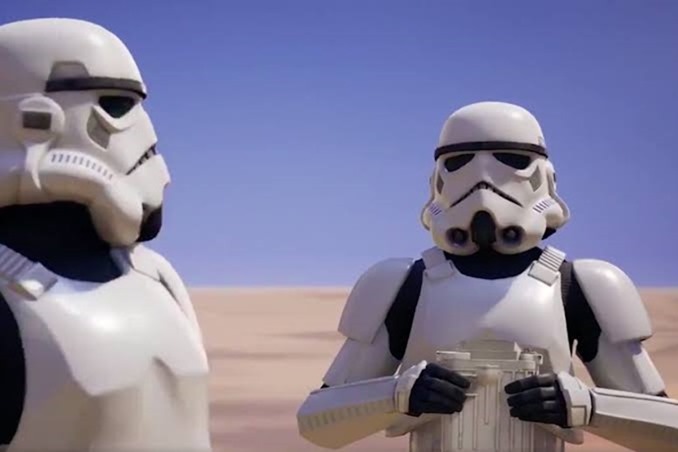 It should be noted that the scene being shown within Fortnite Battle Royale isn't exclusive to the game, but rather the first viewing of said scene can only be seen at Risky Reels. Can you imagine the uproar if Disney said fans would have to download and play Fortnite to view an exclusive scene? It would be an absolute slingfest of dude bros complaining about Fortnite and Star Wars only to download the game and watch it anyway and honestly, that's the energy I expect from Star Wars fans at this point.
Last Updated: December 9, 2019