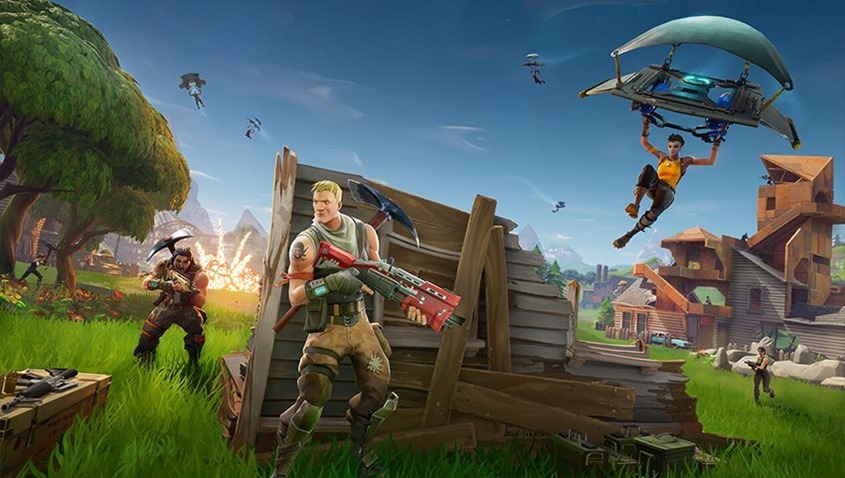 Fortnite's Battle Royale may have shamelessly copied…well, just about everything about PlayerUnknown's Battlegrounds (which itself is a video game version of Battle Royale), but it's managed to become a fun game in its own right. Thanks to its whimsical, cartoon aesthetic and its building mechanics, Fortnite's a little less tense, and a little more immediately fun. It's also both free and more polished – so it's no surprise that it's almost as popular as Battlegrounds.
If there is one thing I do hate about it, it's that it seems to be patched all the time, bringing along with those patches gigabytes of data consumption. If you happened to boot the game up yesterday, you'd have noticed that it needed another update. Here's what that update (clocking in at roughly two gigabytes, on PS4 at least) did:
The two big additions for patch 2.1.0 are the cozy campfire – which is a nice team-healing item, and Shadowplay Highlights. A Nvidia and PC specific addition, it automatically saves plays and allows users to easily share them.
Here are the patch notes:
Fortnite Battle Royale
Weapons
The Boogie Bomb dance effect is now removed upon taking any damage. We will continue to monitor and iterate on this item's functionality.
Changed the Boogie Bomb rarity to blue/rare to more accurately represent its true rarity.
Gameplay
Fixed an issue which caused players to pass through their recently built and edited structures.
Fixed an issue which allowed sniper bullets to pass through players without applying any damage.
Fixed an animation issue caused by entering the DBNO state while in the air.
Audio
Increased the audible range of enemy footsteps, as well as their overall volume.
We're aware of an issue causing footsteps to sometimes play at irregular intervals when offscreen. We're working on a fix now, expect it next update.
Enemy footsteps are easier to hear when performing certain actions such as building, shooting, or collecting resources.
Fixed an issue which caused sniper bullet impact sounds to trigger more than once per shot.
Fixed the phantom bullet sounds that are sometimes heard throughout a match.
Adjusted the volume of the AC/DC Pickaxe.
Reduced the volume of the drone that teleports player out of each match.
UI
Fixed an issue which caused the "Push to Talk" setting to disappear from the Battle Royale settings when restoring default settings in Save the World.
Shortened a few Daily Challenge descriptions which would run off the screen in a few languages.
Daily challenge rewards are automatically collected if another challenge is completed in the same category.
For instance, if you complete a Battle Pass daily challenge but do not "collect" the reward, the reward will automatically be collected upon completing the next Battle Pass daily challenge.
General
Fortnite Battle Royale now supports NVIDIA ShadowPlay highlights on PC.
Fixed a rare Battle Royale server crash.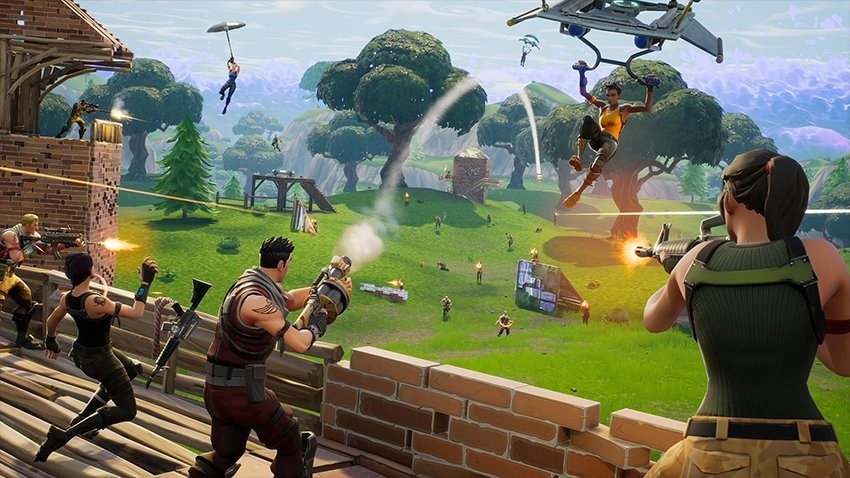 There are also a few fixes to the game's PvE "Save the World" mode…but is anybody really still playing that?
If you are, here's what's changed:
Gameplay
Fixed an issue which caused crafting to fail even when there was space in your inventory.
Heroes
Fixed an issue that caused Ninja smoke bombs to heal players even when the "Medicinal Fumes" perk wasn't unlocked.
The BASE MD perk now heals all allies on affected floors, and the perk properly applies only to the BASE placed by the Constructor.
The Energized support perk now properly increases the damage of energy attacks.
Known Issue: This perk is still failing to boost abilities like Shock Tower and BASE that spawn an object that deals energy damage.
Fixed an issue that prevented players from receiving the Raider Nomad hero from the collection book.
Players will be granted this hero automatically if they have reached Collection Book level 100.
Missions
The "Winter's Chill", "Cold as Ice" and "Deep Freeze" quests specify that you and your team must complete a 7-day 15 zone survival mission. These quests could unintentionally be completed by finishing a 3-day 15, 40 or 70 zone survival mission.
Fixed an issue that would award large amounts of seasonal gold even when failing an Evacuate the Shelter mission.
General
Fixed a rare crash that occurred when selecting "Reward Info" in the Collection Book.
Last Updated: January 11, 2018