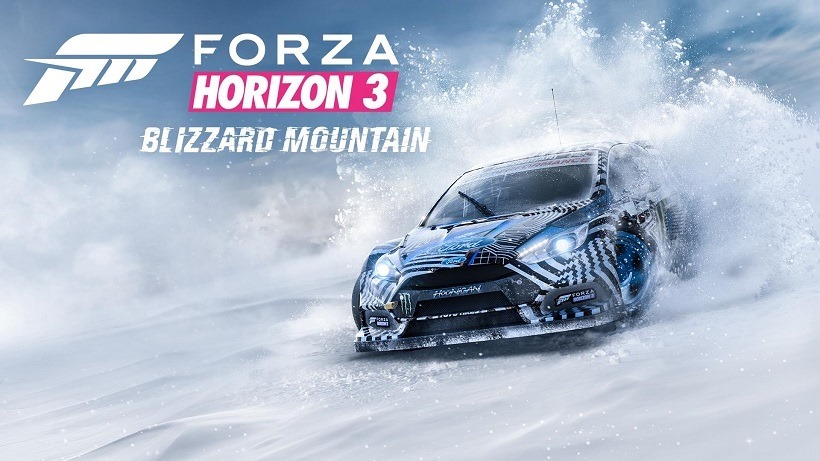 Forza Horizon 3 isn't just one of the best games of the year – it's likely one of the greatest racing games ever made. It's unique blend of open world racing with set-piece events, massive car libraries and gorgeous locales cement it as a title that will likely stand the test of time. And while the Australian outback was an interesting backdrop to the action this year, Playground is toying around with news ideas for the expansions. Like Blizzard Mountain, for example.
Teased a few weeks ago and now officially revealed as of yesterday, Blizzard Mountain is the first of a few Forza Horizon 3 expansions that will add a host of new content to the game. Much like Horizon 2 expansions, it seems Blizzard Mountain will open up an entirely standalone area for players to explore, this time plunging you into an icy, snow-ridden playground for you to mess around in. Given that the rest of the game is drenched in gorgeous sunlight, it's unlikely that you'll be able to seamlessly transition between the two.
And while you'll be able to bring your favourite wheels to the new area, Playground are injecting a few more into the mix that take full advantage of the conditions. This year's Ford Focus Gymkhana is one of them (Ken Block not included), while other standouts such as the Group B Lancia Delta S4 make up the new seven vehicles available for purchase. They'll sit alongside a whole 50 new events, and even one new Barn find to head to first.
It's a healthy helping of content that is sure to get fans still playing the game excited at the prospect of even more to discover. I've fallen off the Horizon 3 wagon in the last few weeks, but the idea of shredding through some thick icy terrain at blisteringly fast speeds is just too tantalising to pass up. Blizzard Mountain is out on December 13th – which is right around the corner.
Last Updated: November 29, 2016