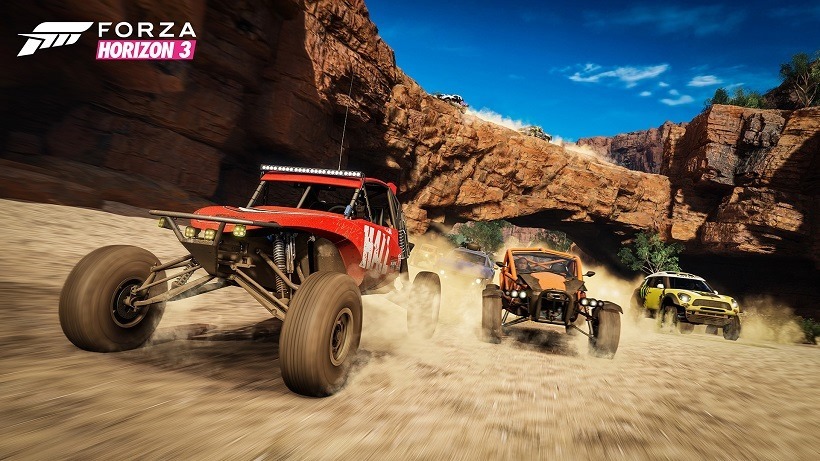 I'm head over heels in love with Forza Horizon 3. I don't think I've ever played a racing game quite like it, aside from the scarily similar, just as grand Horizon 2 that is. Playground Games are on a winning streak with the series, producing content-rich, precise racing titles that cater to the uninitiated all the way up to the hardcore. I'm still chipping away at the massive Australian open-world, even though more content is on its way soon.
Forza Horizon 3, like almost every other game now, has a season pass. That means more content for coughing up a few extra bucks, the first of which will be released this year still. Playground Games have revealed the the first of two content packs will be coming in the weeks leading up to the end of the year, while the second is expected to drop in early 2017. They're both available in the expansion pass, which is a whole $10 for those who ponied up for he already more expensive Ultimate Edition.
What's in the new content packages hasn't been determined yet, but they're likely to follow the same route as Horizon 2. Also receiving two expansions packs, the first gave players a whole new area to explore in Storm Island – a hazardous new playground for the truly brave drivers out there. The second was a little more reserved, with it mostly being about adding new Porsche's to the already fantastic racing title.
I'm holding out hope for something a little more substantial, maybe to the same tune of the Fast and Furious pack that came out for Horizon 2 a few months after its launch. Whatever Playground Games is up to, you can rest assured that it's going to be quality – something which they seem to never compromise on. Forza Horizon 3 is out on PC and Xbox One today.
Last Updated: September 27, 2016