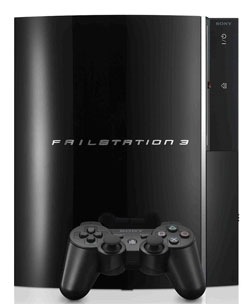 Those of us with just a modicum of gray matter have gotten over the console wars and come to terms with the fact that -barring a few pros and cons on either side – the current gen HD consoles are pretty equal.
There are others though who feel that the fanboy wars have gotten a little too quiet, and have felt the need to venture in to no-man's land, trying to reignite the silly bickering that the rest of us have forgone. One such person is James Hyde of DigitalBattle.com, who's composed a list of 10 reasons why he thinks the Sony's PS3 is a failstation.
While he does make a decent point or two -  if you take in to consideration   the 20 million PS3s shifted -  then his list begins to scream of blatant, misguided fanboyism.
Read it here, then let's discuss his inanity in the comments section.
Last Updated: March 9, 2009