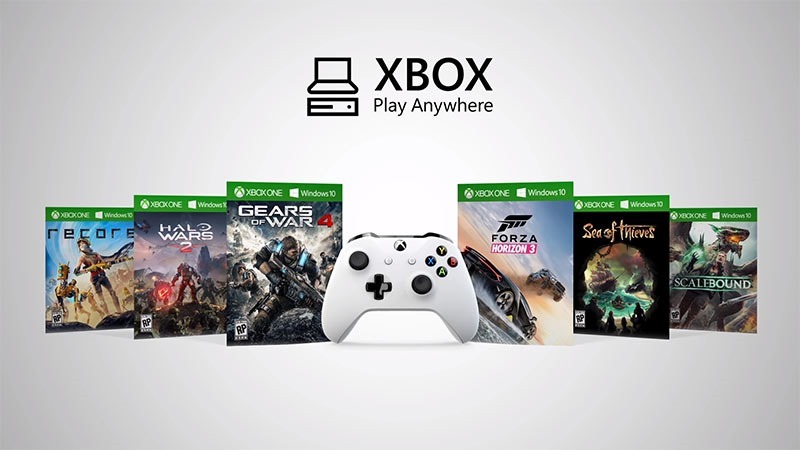 In September this year, Microsoft's Play Anywhere launches on Xbox One and PC. Buy any Xbox One game digitally, and you'll get the PC version of the same game gratis, added to your linked Windows 10 account.
You'll have to download and install updates for both your Windows 10 PC and Xbox One to take part of the program.
"The Windows 10 Anniversary Update and the related Xbox update coming this summer to enable the Windows Store on Windows 10 and Xbox One to support Xbox Play Anywhere games," a Microsoft spokesperson told Polygon. "Then, beginning with the launch of ReCore this fall and continuing with Forza Horizon 3, Gears of War 4, Halo Wars 2 and others, when you digitally purchase a game that supports Xbox Play Anywhere, you have access to the game on both Xbox One and Windows 10 PCs for one price and your progress, game saves and achievements are shared seamlessly across both platforms."
Here's a list of all of the games confirmed to be hitting the service:
Gears of War 4
Forza Horizon 3
ReCore
Sea of Thieves
Halo Wars 2
Scalebound
Killer Instinct Season 3
State of Decay 2
Ark: Survival Evolved
Cuphead
We Happy Few
Crackdown 3
That said, every game published by Microsoft's Game Studios will benefit from Play Anywhere in the future.
"With the Xbox Play Anywhere program, you can buy a game once and play on your Windows 10 PC and Xbox One with shared progress, shared game saves and shared achievements," Windows & Devices Group CVP Yusuf Mehdi said. "Every new title published from Microsoft Studios will support Xbox Play Anywhere and will be easily accessible in the Windows Store."
While many feel that this move makes owning an Xbox redundant, I feel it's a smart play to turn the Xbox platform in to something that transcends hardware.
Last Updated: July 4, 2016