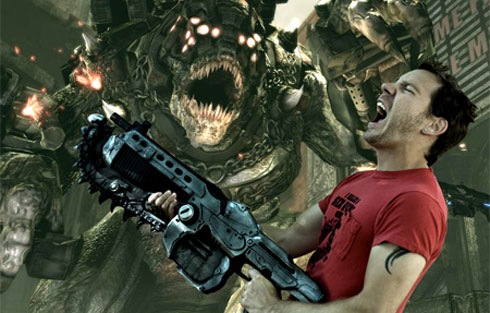 Ready up Gears, it's time to rev those chainsaws! Gamerlobby's stepped up once again to inject a bit of passion – and competition – in to the local multiplayer scene.
In conjunction with The Lair, Gamerlobby will be bringing your their second Gears of War 2 tournament. The tournament will once again be based on the Wingman format, so you and a partner best hit the registration page before the 19 October, when the carnage begins.
Details after the jump!
Registration costs R100 per team, but before you scoff at having to pay to enter consider the prize! This year, instead of the usual gaming related gear, the prize is COLD HARD CASH.
The value of the cash prize is directly proportional to the number of entrants, so get all your friends to enter! AND THEN CHAINSAW THEM IN HALF!
Here's kicker – you can win a prize without even playing. In an effort to reduce lag and the fabled "Host Advantage," Gamerlobby is looking for suitable hosts to volunteer to act as dedicated hosts.
One such host will be lucky enough to walk away with an as yet unknown, but very special prize from Gamerlobby and Evogames. The more games you host, the higher the chance you have of winning.
To stir up some adrenaline, Gamerlobby have a created this kickass video for the tournament.
You can find out more, over at Gamerlobby
Last Updated: October 8, 2009