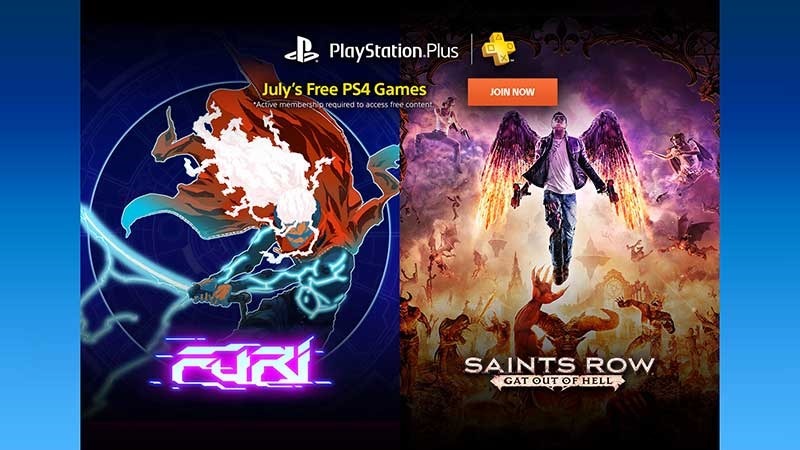 Yesterday we learned what games Xbox Live subscribers would be getting as part of the Xbox Live subscriptions, and they're…pretty good! Banner Saga 2 is a fantastic game, and Tumblestone is an award-wining, genre-defining puzzle game.
And now, we know what games will be added to the PlayStation Instant game collection when July rolls around. Which is soon, I think. I don't understand calendars.
PlayStation 4 owners can look forward to Furi, a game that's essentially bunch of third-person boss fights. It looks…fun, I guess. PS4 owners will also get the standalone Saint's Row IV: Expansion, Gat out of Hell – which adds new superpowers, introduces new characters and sees the saints dragged to the Devil's domain after playing with a Ouija board. It's…silly fun.
BUT WAIT! THERE'S MORE!
PlayStation 4 owners will also be granted early access to Epic's own hero shooter, Paragon.
On the legacy platforms, PS3 owners get Call of Juarez Bound in Blood and Fat Princess, while Vita owners get Prince of Persia: Revelation and Oreshika: Tainted Bloodline.
To Sum:
Furi, PS4
Saints Row: Gat out of Hell, PS4
Call of Juarez: Bound in Blood, PS3
Fat Princess, PS3
Oreshika: Tainted Bloodlines, PS Vita
Prince of Persia: Revelation, PS Vita
That also does mean that the following games are soon to be leaving the service and you should grab them while you still can:
NBA 2K16, PS4
Gone Home: Console Edition, PS4
Echochrome, PS3
Siren: Blood Curse (Episodes 1-12), PS3
God of War: Chains of Olympus, PS Vita
Little Deviants, PS Vita
Last Updated: June 30, 2016