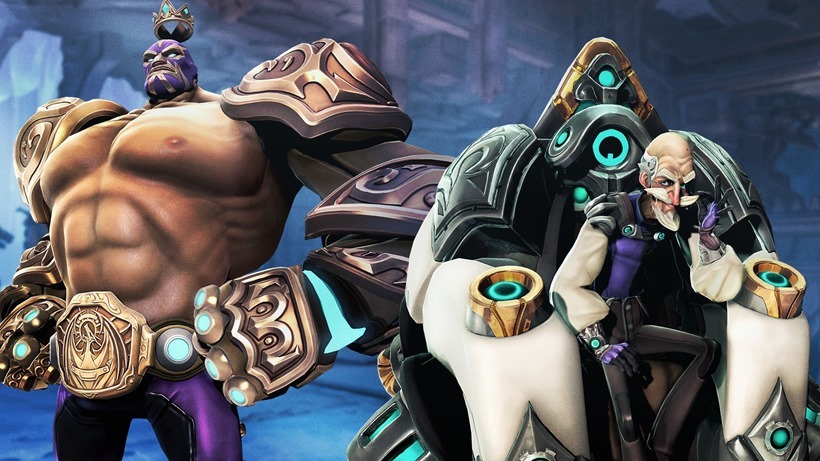 It's been common knowledge for a while now that Battleborn would ship with a whopping 25 heroes. The majority of that roster remained a mystery however. Over the past few months though, Gearbox have been slowly unveiling all the characters.
Just recently for example, they raised the curtain off three; Shayne & Aurox, Kelvin, and Whiskey Foxtrot. This left just two greyed out faces on the lineup. That's no longer the case, because Gearbox have now revealed them both. Here's a closer look at Kleese and El Dragón (via PC Gamer):
Kleese and El Dragón couldn't be more different. An engineering mad genius hovering along in a comfy chair and a space luchador with cybernetic arms ready to tear you a new one. Both these Battleborn heroes do have one thing in common, though: they rely upon LLC technology to kick ass.
Kleese
The cantankerous Kleese, former director of Minion Robotics, hates getting his hands dirty – or getting out of his chair – to waste his time on some inferior being. So, of course he's going to design a hardened piece of plush, high-end "combat furniture" when he's forced to fight.
El Dragón
Then there's the champion luchador, El Dragón, who lost both his arms in his last big match against a rogue AI. Literally. As in a robot ripped both of his arms off during the Holo-Championship match. Rebuilt – and cybernetically re-armed – he's more dangerous than ever before.
And thus, the entire Battleborn roster is now complete (though the hero page hasn't been updated to reflect this). I must say, all the characters look nice and varied – I really dig most of their designs. Will they all be fun to play though? We'll have to wait until May the 3rd to find out.
Are you excited for Battleborn? Will you be getting it on launch day?
Last Updated: March 7, 2016