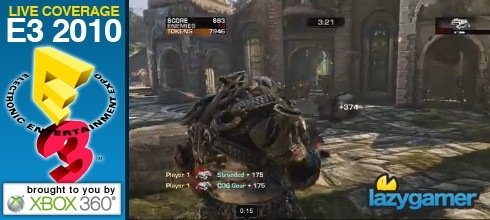 My biggest disappointment of E3 was that fact that I never got any hands on time with Gears of War 3 while I was here.
IGN however managed to throw a bit of their weight around and go behind closed doors for some hands on with the new Beast Mode.
From what I can understand Beast mode is pretty much Horde mode in reverse, you are up against wave after wave of AI controlled Gears and you can choose which locust you want to be depending on what level you are currently in.
Starting with the tickers and wretches and moving up to be boomers or berserkers.
The gameplay footage gives us some idea of how this will work and I am truly hoping that it ends up also allowing us to play versus mode using these same characters or at least allowing our friends jump in and take over the Gears to make it a truly difficult Horde mode.
Source: IGN
Last Updated: June 21, 2010