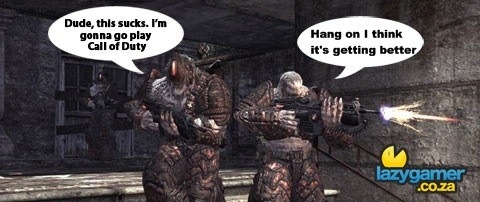 The much anticipated Gears of War 2 update landed last week and I finally got around to downloading it on the weekend and giving it a run.
Personally the most important thing I was looking for was whether or not the matchmaking had been fixed yet and if the lag issues had been resolved.
I couldn't care less about the ranking system and whether I have 1 stripe or the number 1 next to my name doesn't really make a difference, however I have to admit that I do like being able to see who is going to wipe the floor with me with the new system so that's a plus.
Nick mentioned over the weekend that the lobbies have also significantly been improved and that you can now chat properly while watching the rest of your team get mauled as well as chatting between rounds finally, how could this take so long to fix.
From my side I found that finding ranked matches is now markedly improved and didn't feel like a trip to the dentist anymore. The matches seemed well balanced and the shotgun/melee near glitches seem to be mostly resolved.
However I didn't get to play to long as I really wasn't finding it much fun, I don't know what it is but Gears 2 just doesn't have that wow factor that the original Gears had.
After the original Gears gave me so much entertainment I feel duty bound to give Gears 2 another shot but I have to say that right now I think the single player section of Gears 2 was the best part of the package and I didn't rate that too highly when I first played it.
Last Updated: March 30, 2009