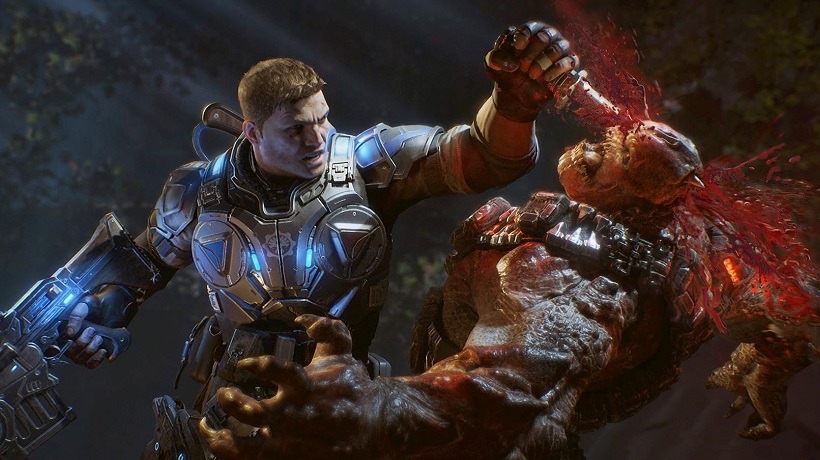 The Gears of War 4 beta is opening its doors to anyone and everyone who managed to play Gears of War: Ultimate Edition last year, after letting in a select few players in early over the weekend. We have our own impressions of the beta so far, and The Coalition is certainly keeping things as classic as they come with a Gears title. That's not to say there aren't differences, and it's these small nuances that will test the adaptability of professional players online.
Some of these changes and enhancements were detailed in a livestream from The Coalition over the weekend. The team dived into some of the new mechanics that you'll experience online, such as the new Active Reload which lets you reload (and enhance) a full magazine of bullets, as well as the return of the Retro Lancer (and the omission on the dreadful sawn-off shotgun). Many of the changes are small, but make a big difference to the way the game is played online. You can check out a list of them below.
Wall Cancel cooldown confirmed. Cooldown is currently 1~2s. Beta will allow them to refine the exact cooldown time.
Active Reload cooldown confirmed. Cooldown is 3~6s depending on the weapon. Entire clip becomes Active, not just the reloaded bullets.
Hammerburst is going back to 6-round burst. Medium range weapon.
Pistol can be swapped to very quickly now. Snub specifically has reduced range over previous games (reduce snub snipes). Boltok looked like it had an increased rate of fire, and is about as accurate as previous games.
Retro Lancer IS returning. Will NOT be in the beta. Weapon retuned for "dedicated" damage support, a little close to Lancer.
Sawed Off GONE. Will not return.
Execution will not be in the Beta, but will be in final release.
Gnasher will be slightly weaker than 3/UE, but primarily for the sake of improved hit registration (and accounting for lag).
Longshot has reduced bloom while moving (vs all previous games). Closer to Gears 1 in power, much less bloom and 'shaky-ness' when compared to any gears game.
Gridlock will be one of the 10 stock (free/shipping) maps.
Smoke Stun is returning, but will be very short. Kept in primarily to prevent overly-defensive gameplay. Will be adjusted after feedback from beta.
Grenade tags / wall tags returning. Primarily to assist defensive gameplay. Will be adjusted after feedback from beta.
Skill medals: Skill system will assign one of those medals to a player, and matchmaking will attempt to only match people with the same medal.
Gears of war 4 also features some better Close-Quarters Combat, especially suited for when you and an enemy are sharing the same cover. If you're on opposite sides of a waist height wall, you can grab your opponent over the cover and deliver a swift knife to the throat. The same goes for wall stuns, which allow you to vault over cover and kick a hiding enemy into a stun for an easy kill. Both of these can be countered though, and are best shown in the Gears of War 4 Beta tips guide below.
The Gears of War 4 beta is lasting for a while, letting in all of Xbox Live Gold a little later this month. We'll be playing as much as we can to get a good feel for the game before it launches later this year.
Last Updated: April 18, 2016