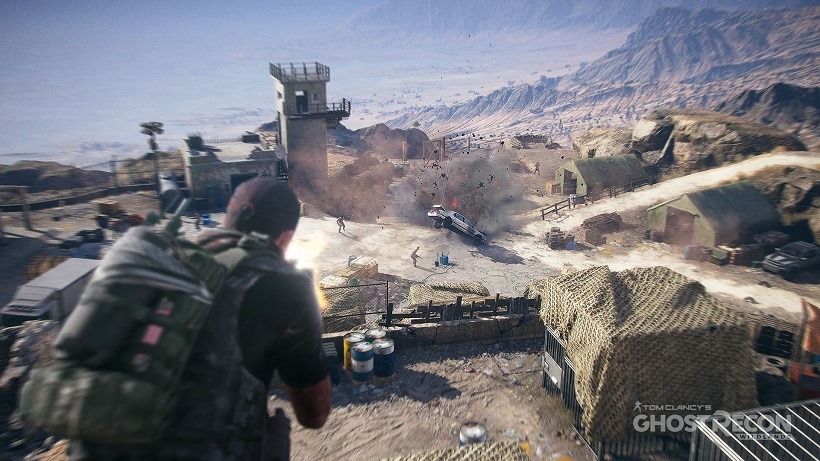 Ubisoft and their newer approach to open-world titles was on full display in the surprisingly great Watch Dogs 2 this year, and it's likely the publisher will hope the momentum keeps rolling as attention shifts to their open-world tactical shooter, Ghost Recon: Wildlands. We've seen and played quite a bit of it before, and the experience is nothing but polarising. With the right team and gear, the game is an exhilarating rush of stealth, cover-based shooting. If you want it to be – as a new trailer shows just how creative you can get in the thick of things.
Creative like rolling through and enemy encampment with a bulldozer – because that's the type of hardcore training and discipline that gets you into the Ghost program in the first place. Like every other title in the series you'll be taking up arms as one of the most elite soldiers on the planet, this time with three friends. You're thrust into the heart of Bolivia and the drug super highway there, with the Cartel spreading its influence across the varied lands around you. It's all pretty cut and dry in the trailer below.
Like you've probably come to realise, Wildlands is a game about choice. Do you try and infiltrate enemy camps and take out enemies one by one with an assortment of gadgets, or do you roll in guns blazing with points dropped into weapon accuracy and gun upgrades? Or do you mix both – having one or two stealthy players to take point and another two to cover you exit should thing get hairy.
Those are the types of decisions and dynamic moments Wildlands wants you to create, even if there a lot of setup involved in doing that. But thankfully you'll be able to get a taste soon, with Ubisoft launching entries for the game's beta which should kick off soon. You can throw your name into that hat here.
Last Updated: December 6, 2016