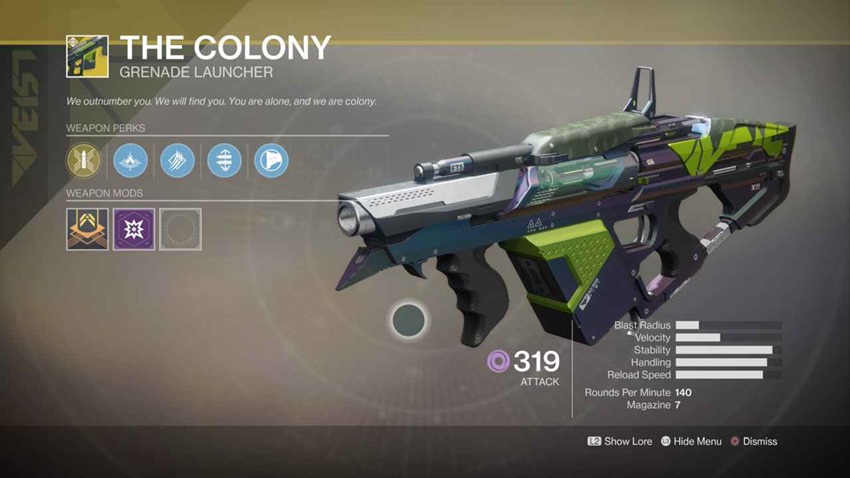 You're surrounded by a squad of Red Legion troopers who have a bone to pick with you after you reduced their favourite Phalanx soldier into a pile of ashes with a rocket launcher. Outnumbered? Definitely. Outgunned? HA! Keep on dreaming. If there's one thing that humanity has managed to be especially adept at, it's finding new ways to kill everything from each other to cosmic horrors in the deep.
Take The Colony for instance. An ordinary grenade launcher, with a constrained blast radius and solid stability at first glance. Except there's something different about it…Holy crap, it fires off little explosive robot spiders that are programmed to seek and destroy. Now that's an exotic weapon! Unlike other grenade launchers, the Colony is a marvel to use thanks to its tenacious robotic buggers in the chamber, who'll zone in on enemies who duck your first blast.
It's utterly fantastic for taking out Ultras and heavy opponents in PVE, although it might not be as effective in PVP due to its delayed nature of attack. Still, it's a helluva gun and well worth pursuing. If you're lucky enough to be rewarded one that is. Yup, like most exotics in Curse of Osiris, you'll have to roll the dice on finding one as The Colony so far only drops as a reward via the ol' RNG slots.
Activating a heroic trigger in the Crossroads public event should boost your chance at grabbing one, although buying a Fated Engram from Xur next week might also help. Maybe. Here's a breakdown on the stats of this lovely grenade launcher:
Exotic Name: The Colony
Type: Power Weapon (Grenade Launcher)
Damage Type: Void
Special Ability #1: Insectoid Robot Grenades — Fires insectoid robot grenades that chase targets and explode in close proximity.
Special Ability #2: Insectoid robot grenades quickly repopulate the magazine from reserves while teh Colony is unequipped.
Item Description: We outnumber you. We will find you. You are alone, and we are colony.
Spider-bombs, spider-bombs, does whatever a spider-bomb does! Spins a web, of fletchettes in a Minotaur's face! Look out! Here comes the spider-bomb!
Last Updated: December 6, 2017