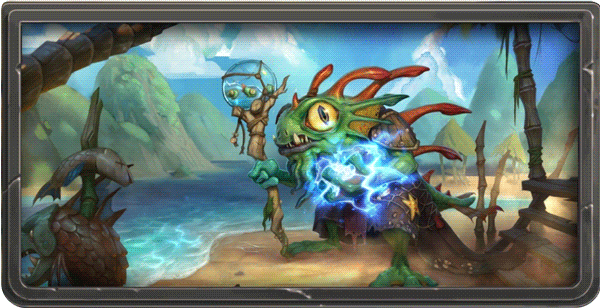 It's kind of scary how I've done a complete one-eighty with regards to Hearthstone. I mean, just a year ago, I completely hated the game. I really mean that – I wanted nothing to do with it, and I flat out refused to play it despite the positive, encouraging ramblings of many of my friends.
My attitude changed though when the League of Explorers expansion came out. I dabbled with it briefly at BlizzCon (I enjoyed that little slice thoroughly), and as a result, decided to give the addictive card game a second chance.
What a mistake that proved to be. I've changed my tune entirely! I give up any spare moment I have to Hearthstone now, and I've even become a non-profit salesperson for Blizzard, recommending the game to anybody who'll listen.
And now I wish I'd waited before promoting Hearthstone to the world. Why? Because Blizzard have just unveiled a new Shaman class – a Murloc called Morgl – that can only be unlocked by referring a friend to the game.
While most murlocs are more likely to have visitors for lunch than they are to invite them over for tea, Morgl the Oracle has wisdom, wit, and the wherewithal to fight the good fight. His language skills aren't quite up to Finley's level, but his command of the elements is unmatched! He's got the attitude, and he's got the skills—now he just needs a little convincing!
Help recruit a friend for Finley by recruiting one of your own! Hearthstone is a grand adventure, but it's even better when a friend joins the expedition! After your first recruit has accumulated a total of 20 levels across all of their Heroes, Morgl will follow your friend's example to join your collection as a new Shaman Hero. You'll also receive a free Classic Hearthstone pack when your next four recruits reach the 20 level milestone. Also, ALL your recruits will receive a free Classic Hearthstone pack upon logging in to help them on their way!
Dammit, I've already got three new friends playing Hearthstone (out of a pool of those who weren't already addicted). I don't actually know anybody else who might be interesting in trying it out.
Wait hang on, my brother hasn't got the game yet, nor has my girlfriend. Brb, sending them my referral code. I don't even play Shaman, but I simply must have Morgl. RwlRwlRwlRwl!
Last Updated: July 13, 2016