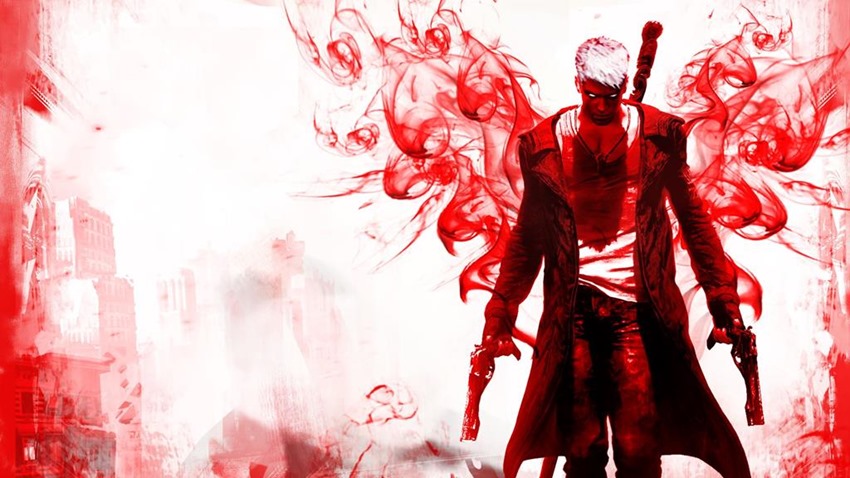 If there's one debate that we have in the office that always somehow manages to end in pain, blood and someone losing an eye (EYE DIDN'T SEE THAT COMING! HAW!), it's trying to figure out which entry in the Devil May Cry series is the best. Geoff claims that nothing can top the unbridled joy of a young Dante in Devil May Cry 3, while I'll whinge tooth and nail that it's the fourth Devil May Cry game that is the series at its very (backtracking) best.
One thing that we can both agree on though? That Ninja Theory's superb DmC: Devil May Cry is an underrated entry in the franchise that absolutely nailed the formula while adding a few interesting ideas of its own. People scoffed at DmC: Devil May Cry when it was first released, scoffed to the max. If you had ignored the sound of whaaambulances that were speeding to the user review section of metacritic and picked up Ninja Theory's reboot, you'd have been in for a treat.
The sad fact is, is that not enough people gave the game a chance and thus so ended the possibility of Devil May Cry 5 ever getting greenlit. Thanks. Here's a second chance to give the remake a bash then, as the Capcom Humble Bundle is live and ready to go. Pay what you want, and you'll get the following trio of games:
DmC: Devil May Cry
Strider
Umbrella Corps
Pay the current average of just over $7 and you'll get the three games above and:
Umbrella Corps Deluxe Edition Upgrade Pack
Dead Rising 2: Off the Record
Resident Evil HD REMASTER
Resident Evil 0 HD REMASTER
Resident Evil 6
Throw down $12, and you'll also unlock a pair of Dead Rising games that doesn't include the only one in the series that Geoff actually gives a damn about:
Dead Rising 2
Dead Rising 3: Apocalypse Edition
BUT WAIT! DERE'S MOAR! If you chip in more than a buck, you'll automatically receive 10% off Humble Monthly for new subscribers, while beating the average price unlocks a few more discounts:
Resident Evil 7 discount coupon – 40%
Dead Rising 4 discount coupon – 50%
Street Fighter V discount coupon- 50%
Not a bad bundle, provided that you've got any cash left over after the recent PlayStation, Xbox and Steam sales.
Last Updated: July 12, 2017