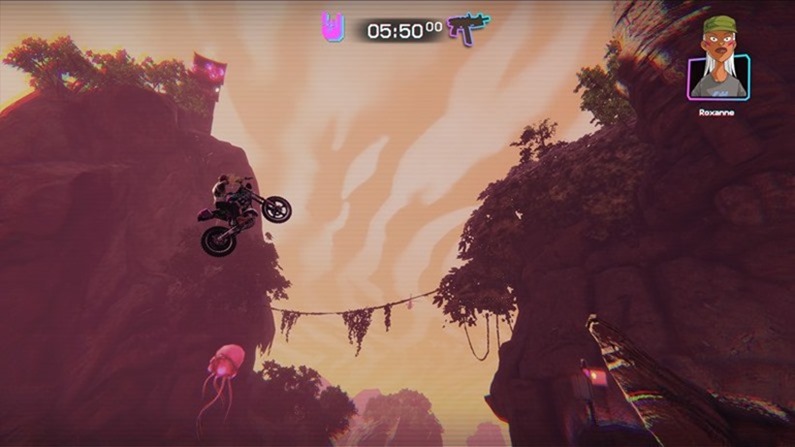 Confession time: I've never touched a Trials game… NOT EVEN ONCE! This makes me sad, as I played the hell out of Elastomania in my younger, carefree days for example, and I loved the hell out of it.
Why then, have I somehow not yet experienced Trials? That's a big mystery, on the very same level of how the hell did Portugal make it to the Euro 2016 final? Honestly, NOBODY KNOWS (though to be fair, they did play rather splendidly against Wales last night).
Anyhow, I now have the opportunity to experience the latest entry in the VROOM VROOM BIKE saga – Trials of the Blood Dragon – without even spending a single cent. The catch? I just need to play the demo really, really well (via PC Gamer).
Think you've got awesome Trials skills? Now's your chance to prove it and earn Trials of the Blood Dragon for free. That's right. Free. On July 22, simply download the PC demo from Uplay and complete it with 15 or fewer faults to get access to the full PC version of Trials of the Blood Dragon, free of charge
15 or fewer faults? How hard could that be? I'll have the game in my library in no time at all!
Though, it isn't the strongest entry into the franchise. Here's what Darryn had to say in his review.
I liked Trials of the Blood Dragon for what it was: An accessible take on the Trials franchise that developer RedLynx is having fun with, proving that the engine that powers this franchise is somewhat adaptive to new ideas and themes. It also makes me yearn more than ever for a Blood Dragon sequel, even if the whole product feels flawed thanks to a handful of missions that derail the otherwise superb fast-paced experience.

At the very least, Trials of the Blood Dragon has more personality than the rest of the entire series.
Still, who am I to say no to a free game? Now if you'll excuse me, I'm off to practice. Remember, Trials of the Blood Dragon can only be earned for free on one day only – July 22nd. That gives you and I plenty time to train!
Last Updated: July 7, 2016