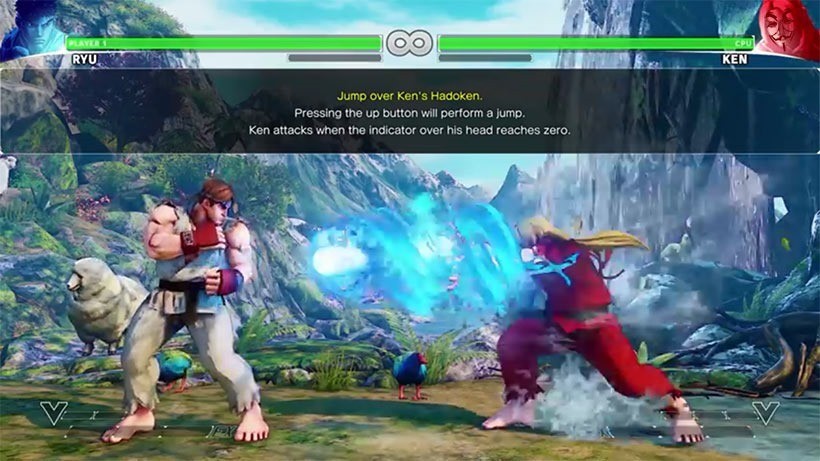 Street Fighter V is coming early next year, bringing the long-running fighting game in to the new generation. It's a PlayStation 4 console exclusive, though it's also coming to the PC – where, through black magic, players on either platform will be able to go head to head against each other.
Fighting games find most of their favour in their multiplayer, though as we've seen from Mortal Kombat's rebirth and Injustice, a strong single player component is important in bringing newcomers in to the fray. To date, Street Fighter's single player has been anything but strong; it's usually followed the Arcade model, of just taking a single fighter through a ladder of others, with the action sometimes punctuated by a cutscene or bits of text.
Capcom's promised that Street Fighter V will have a better story mode.
"I can't reveal specifics exactly on our story," Capcom's Matt Dahlgren said to Hip Hop Gamer. "but I can say we are going to be doing things differently this time around. We're definitely paying attention to what our competitors are doing and want to raise the bar, so our story content is going to unique, and different than any previous Street Fighter game."
Here's your first look of it, "leaked" out of beta. It's an interesting look at the game's early story mode, which is focused on the tutorial aspect.
It's still very early, so it's very, very likely that the static images will be replaced with proper animation in the final game. The tutorial bits aren't particularly comprehensive and don't seem to go in to FG fundamentals as Killer Instinct's ones, but the more interesting part to me is that it goes well in to the past – with Ryu and Ken's Character models looking like they've been plucked out of Street fighter Alpha. It's a nice way of doing a tutorial, I suppose.
We know that the bulk of the game takes place well after Street Fighter II, with characters looking gruffer, and older, so it's interesting to see a flashback. I just really, really hope that's placeholder art in those cut-scenes.
Last Updated: November 5, 2015