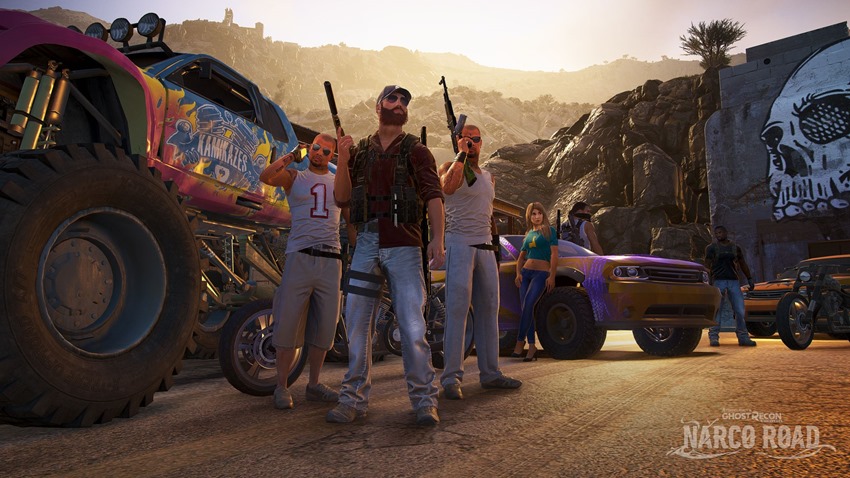 Ghost Recon: Wildlands may be as beautiful as its characters are vapid patriots for a never-ending war machine economy but…Actually I've got no idea where to take that opening line, but it is kind of true. Point is, Ghost Recon: Wildlands debuted a few weeks back, got a bit buried in the March onslaught of top-class games. It's not quite dead however (merely pining for the Fjords), as Ubisoft's skill as DLCeers rears its head for that season pass that some of you splashed out some cash for.
The first expansion for Wildlands doesn't just have a release date, but a few details as well. The Narco Road will see players work their way through a new slice of the cartels: Their smuggling rings. Led by El Invisible (Spanish for The Invisible I think, much like El Nino is Mexican for "The Nino"), players will have to infiltrate their way up the crime food chain and eliminate three bosses.
The twist in the knife comes from the gangs that each boss commands, as they happen to have distinct identities: The gang-bangers with a death wish known as the Kamikazes, the Santa Muerte worshipers who operate as the Death Riders and the hotrod enthusiasts Jinetes Locos. Ubisoft says that there'll be around 15 missions, four side-quests and plenty of racing challenges aimed at helping you earn a following that'll get you into the good books of the gangs, before you pop a bullet into their skulls.
Oh and also a few new guns. I kinda love the guns in Wildlands, especially my beloved M18 rifle with a tactical scope and grenade launcher, oh my yes. That sounds decently meaty actually, if you're still keen on trekking around Bolivia. The Narco Road will be out on April 18 for season pass holders, while everyone else gets it a week later on April 25. For a few dollars more ($14.99) of course.
Last Updated: April 12, 2017