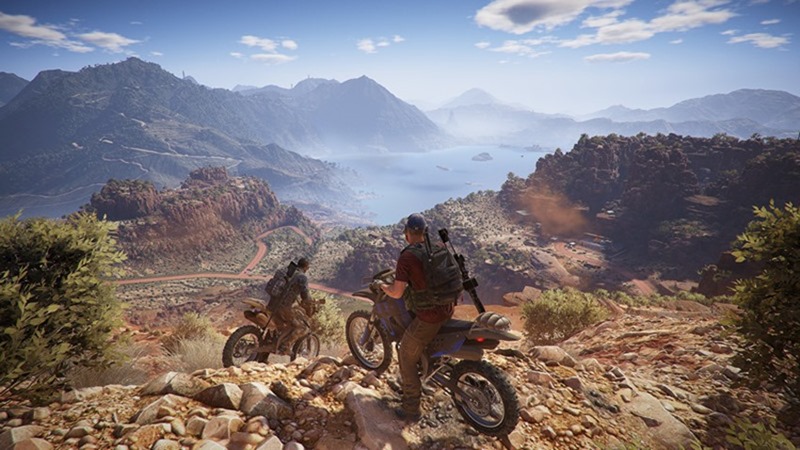 I didn't like Ghost Recon: Wildlands all that much – but I knew I wouldn't, going in. The game's odd missions structures, co-op focus and jingoism meant it was never going to be the sort of thing I'd invest my time in. But I'm obviously an outlier. The game has proven to be unfathomably popular, and has been sitting near the top of the sales charts since its release.
According to Ubisoft, it's actually the biggest game of the year to date. That's what they say in their financial report, which was released yesterday. It's helped Ubisoft exceed its own fiscal predictions for the year- besting their expectations of €170.0 million quarterly sales. They actually managed €202.1 million, up 45.2% over the previous quarter
"Fueled by the digital segment – which saw a sharp increase in player recurring investment – as well as a strong showing from our back catalog, our sales for the first quarter of 2017-18 came in well ahead of our targets, up 45%, despite the fact that there were no major new releases during the period", Yves Guillemot, Co-Founder and CEO stated.

"At this year's E3, our teams presented an outstanding line-up and I would like to thank them for their amazing work which has been recognized by the entire industry. Our games have generated enormous enthusiasm among the player community, which supports our expectations for the full year."

Thanks to our increasing ability to engage players over the long term, combined with our unique creative strengths, we are even more confident of achieving our targets for 2017-18 and 2018-19", he added. "We expect both of these factors to continue being key drivers of value creation in the coming years."
Ubisoft likely has a great quarter ahead, too. They've got one of the most intriguing Switch exclusives coming in Mario + Rabbids: Kingdom Battle, along with a new Rainbow Six Siege expansions, and new content for For Honor. Later this year, there's the impending release of Assassin's Creed Origins, this time set in Egypt.
Last Updated: July 19, 2017