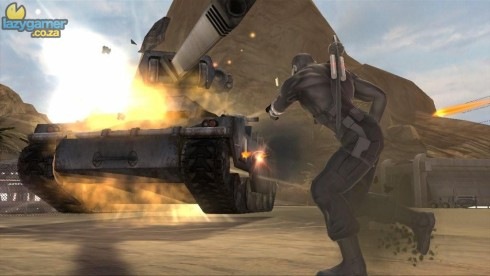 I'll admit that I know little to nothing about the G.I. Joe world, I am not sure why that is as it looks like something I would have become insanely addicted to in my younger years.
Never the less I don't know that much about it so when I saw that a movie was being made I wasn't much interested and when I received the press release for the game I didn't expect to find much inside of it.
However that is until I stumbled across this line
"Featuring an intense single screen co-op multiplayer mode, G.I. JOE The Rise of Cobra allows two players to choose their favorite G.I. JOE characters and team up in the classic struggle of good versus evil"
The lack of single screen co-op is one of my biggest complaints about this generation, I object to having to buy another console for the wife and neither of us are capable of playing split-screen properly… So any game that offers single screen co-op is a day one buy.
I do have an issue with this feature though, why can't I team up on the baddies side… everyone prefers being the evil villain.
Oh it's also apparently important to let you know that the game (G.I. Joe The Rise of Cobra) follows on directly from where the movie left off which I guess means we all need to go watch the movie?
Last Updated: March 16, 2009