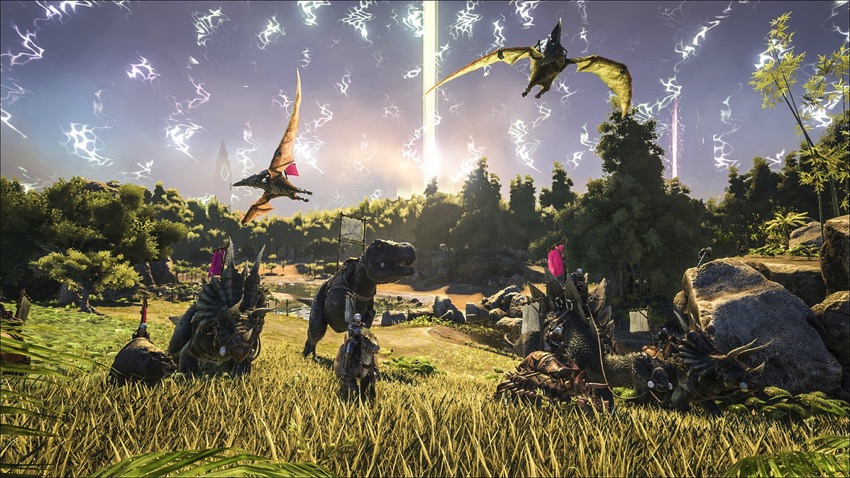 Okay, I know gaming is a big deal. I keep saying it's not some niche industry as people like to pretend it is. Gaming is big money, but even my mind gets boggled by the numbers. According to Super Data, the global digital games market rose 9.8% year-over-year, hitting $7.47 billion in January, presumably as the holiday season spilled into the new year. Holy Randelas that's a lot of money, and that's just the digital sales! Of course, how it's spread is equally interesting.
Cast your mind back to 2013. Obama was president and people thought that Thrift Shop song was really rad. Also, GTA V was released. Now, four years later, people are not only still playing it – it's the #2 top selling console game (behind FIFA 17). The third top console game went to CoD: Infinite Warfare, with ARK: Survival Evolved getting the fourth slot. That's right, it beat out Battlefield 1, Star Wars Battlefront, and Destiny in January. The analysts from Super Data had this to say about it:
Ark: Survival Evolved continues upward swing. Launching on PS4 in December, the game is an unusual standout on the AAA-publisher-heavy top 10 console list. In January, the game continued a rise as it becomes popular on the latest generation of platforms and took the number 4 slot, ahead of titles like Battlefield 1.

Call of Duty: Infinite Warfare has a sharp decline again. Infinite Warfare continued to slip, down 41% from Black Ops 3 in the prior year. This was partially offset by another month of solid average selling price growth thanks to continued sales of the Modern Warfare bundle.
Meanwhile, PC gamers continue to spend money primarily on older games, with League of Legends, CS: GO, WoW, Crossfire and DOTA 2 among the top 10. In fact, the only new game I spy in the #4 spot was Overwatch. Come join us in 2017, PC gamers!
I'm honestly still in shock that GTA V, and particularly GTA Online, is still so popular. I suppose this is why they weren't in a rush to release Red Dead Redemption 2, although Red Dead Online could be something truly spectacular. Also, good job ARK – it's great to see an independent game doing so well on console. I just wonder what's going to happen to COD this year. The franchise is still really popular, but not nearly as powerful as it once was. I suppose it makes sense, though, as all the COD fans I knew are now Overwatch addicts.
Last Updated: February 27, 2017