God of War, everybody's favourite angry dad simulator ("BOY!"), is very much a top contender for Game of the Year honours for 2018. It's also a very different game than its predecessors as developers Santa Monica Studio broke down and rebuilt just about every facet of the long-running action franchise, from its iconic cinematic combat to its larger-than-life mythological storytelling. One radical change was to transplant this story of an older, more cantankerous Kratos and his son from its Greek roots to a whole new land of gods and magic courtesy of Norse mythology.
The Nordic realms of fire, ice and shadow frequented by Odin, Thor, Baldur, frost giants and a whole selection of elves, actually ended up being a perfect fit for the reluctant Greek war god Kratos, but things could have gone in a very different direction. A very sandy direction: Egypt. Way back in June 2016 in the early stages development, God of War game director Cory Barlog revealed to Eurogamer that it had been a toss-up between Midgard and the lands of the Nile, saying that "Egyptian mythology… half the team was way into that." However, Barlog eventually weighed in to personally tip the scales towards Norse mythology and we ended up with the incredible game we now have. That didn't stop some fans from wondering what could have been though.
Well, wonder no more as Barlog was onstage at Devcom, the developer-centric precursor to Gamescom, to give a talk about the development of the game and there revealed for the first time (via Gearnuke) concept art that shows what an Egyptian-based God of War could have looked like. Click below to enlarge.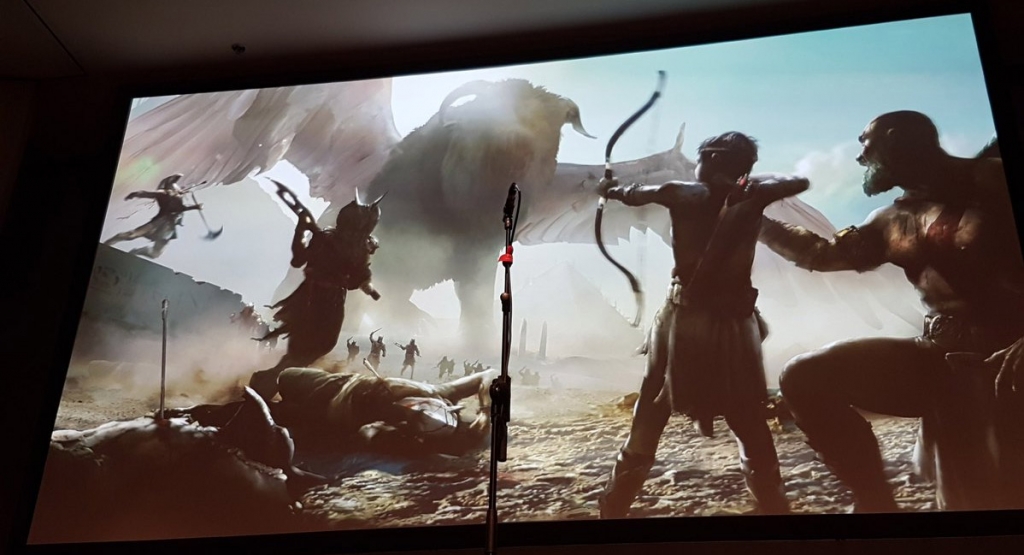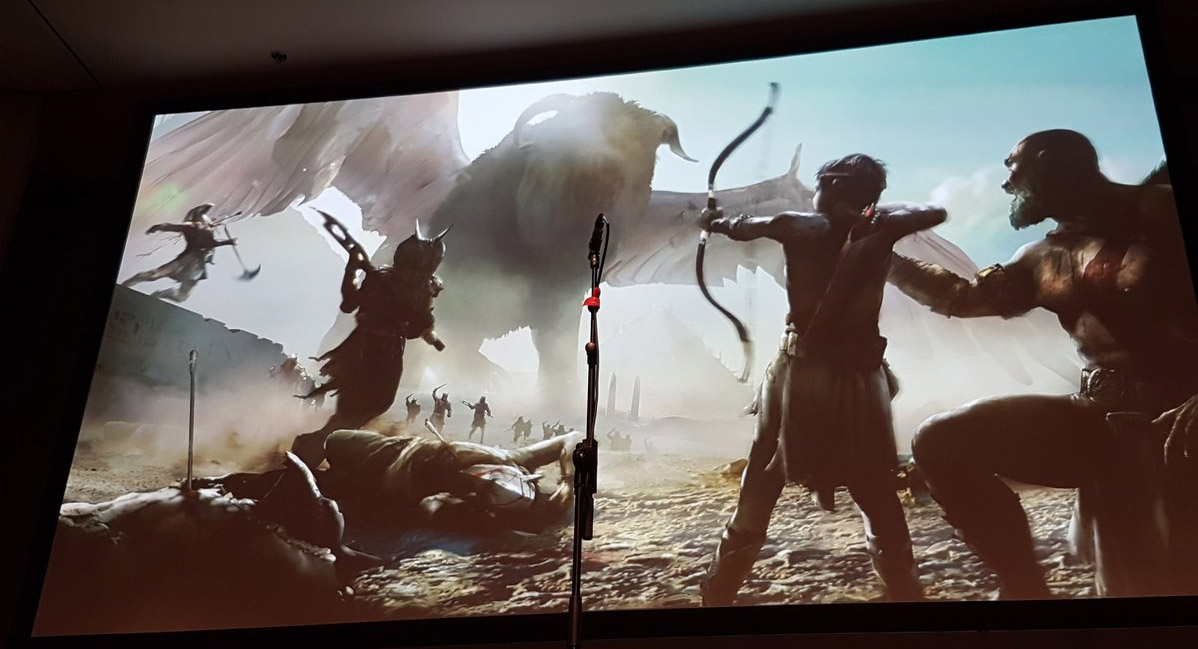 Barlog explained that the early Egyptian prototype used the Kratos model from 2013's God of War: Ascension, which means he probably still had the Blades of Chaos instead of the eventual Leviathan Axe. One aspect that was already in place though was his son Atreus, seen in the concept art firing a bow at a Sphinx-like creature, much like how he would assist Kratos in the final game. While Atreus is an integral part of both the story and combat of the game, Barlog revealed that playtesters of that early prototype were not happy at all with the departure in gameplay mechanics. In the end, the team of Santa Monica Studio were proven correct in their approach though, much to Barlog's emotional relief.
As for why they eventually decided to ditch the Egyptian setting for Norse mythology instead, Barlog explained back in 2016 that it was all about Kratos' place in that world.
I think, for me, as I looked at both of those, Egyptian mythology is about the pharaohs as embodiments of the gods on earth and there's a lot more about civilisation – it's less isolated, less barren. I think at this time, we really wanted to focus on Kratos. Having too much around distracts from that central theme of a stranger in a strange land.
In hindsight, having played the game, I can totally get what Barlog is getting at as Kratos' isolation and the reasons for it drive so much of the story in the game we got. He definitely also has a lot more in common with Viking gods, who are rough and tumble physical beings who prize glorious death in battle above all else. It would still have been cool to see him punch the nose right off a sphinx though. What do you guys think of a possible Egypt-set God of War game?
Last Updated: August 22, 2018