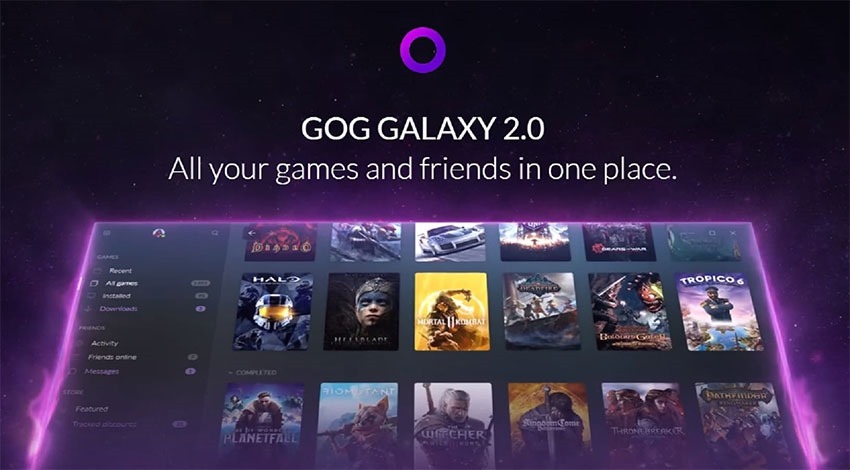 Who needs another PC game launcher? Absolutely goddamned nobody, that's who! Despite that, I'm going to recommend you install one, because GOG Galaxy 2.0 is now in open beta, and unlike GOG Galaxy when it first launched, it's not complete and utter trash.
No longer just the place where you have your Witcher 3 installation for prosperity, GOG Galaxy 2.0 does a handy job of collating and unifying all of your existing launchers. There's support for nearly everything, including Epic Games Store, Steam, Origin and uPlay, along with community-driven additions – so it can support things like Rockstar's launcher. The only launcher I can't get it to play nicely with right now is Battlenet. You can even add in emulators.
Anyway, it's all quite lovely, putting all of your games – along with your achievements, friends and the like in one place. It very nearly makes the other launchers invisible, with just a simple notification even letting you know that you're running a game from Steam, for example.
It's also super easy to get going. Just download it, click the button at the top to add games and friends, connect the required accounts, and you've got a nice, neatly collated library of all of your games, which you can filter between launchers, separate installed and uninstalled games.
GOG also promises that they're not just using GOG Galaxy 2.0 as some way to spy on you and your gaming habits, so that's nice. I like it, but if you have no interest in a collated library or having to install yet another launcher, you're free to ignore it completely.
Last Updated: December 10, 2019