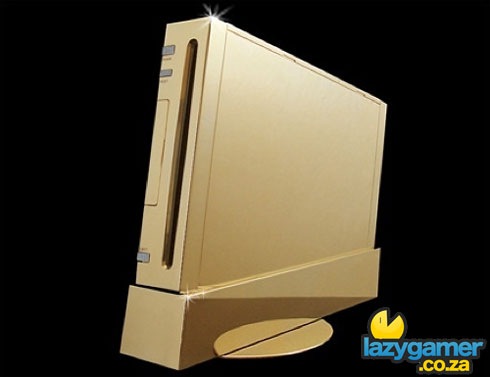 Liverpudlian Stuart Hughes has a horrible habit of needlessly bulwarking electronics in gold. This is a special sort of Bling ludicrousness to which not even Flava Flav would stoop, but apparently true gaudiness comes at a premium.
The latest aurified gadgetry is the Nintendo Wii SUPREME, which has been decked with 2500 grams of solid 22 karat gold, and houses 78 quarter carat flawless diamonds in the front buttons, totalling 19 sparkly carats. What would it cost for you to have one of only 3 of the most needlessly expensive things ever made?
Hughes is asking for the preposterously gargantuan sum of £299,995.00 – or 3.7 Million Rand. Oh come on…the thing's not even HD!
It apparently takes 6 months of precision work to craft something this tacky – but giving the Wii controllers the same treatment would take more, so you'd have to use regular controllers should you actually wish to play on this thing.
I had a Wii this morning which was also had a lovely golden hue…think I could get anything for that?
You can see more ridiculous, over at Stuart Hughes' site.
Last Updated: December 18, 2009