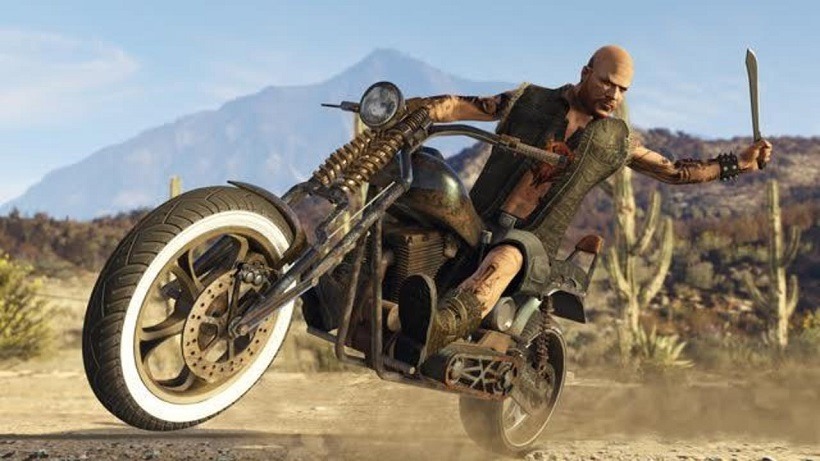 At one point, I was seriously addicted to GTA Online. Although the actual meat of GTA V and its story never grabbed me, the shared online world filled with sometimes ridiculously difficult missions captivated me and some friends. Eventually it tapered off (more a fault of real life than Rockstar's support), but for thousands its still a lively, breathing online world. And one that is getting yet another piece of DLC tomorrow.
The Bikers DLC has been teased by Rockstar for months now, and it's finally making its way to all three platforms as a free update tomorrow. The Bikers DLC is going to add quite a bit to GTA Online, including some all new vehicles, weapons and clothing. And since you're part of a biker gang, you've got to have on-bike melee combat, right? That's being patched in too, and I can't wait to see some ridiculous jousting videos on the streets of Los Santos.
Aside from some new content, the Bikers DLC is also going to have an impact on how Heists work. Essentially the bread and butter of GTA Online, Rockstar haven't exactly detailed how the DLC changes those up, they have teased an all new co-operative mode that's never been in the game. That's on top of even more ways to play the already blossoming assortment of co-operative and competitive missions, which should make full use of the new toys players will be able to get their hands on.
With GTA Online raking in so much money still for Rockstar, it's not surprising to see so much support for the mode still being worked on. It's a thriving online space that gobbles up new content like this willingly, especially so if it comes as a free update. It's something I'd like to hop back into someday – at least before Rockstar start work on another GTA.
Last Updated: October 3, 2016