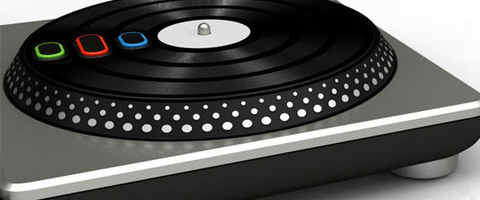 If you are wondering, yes, the picture above is the official image that has been released for the DJ Hero peripheral that will come bundled with the game.
Activision have made an official statement that now confirms that DJ Hero, as well as Guitar Hero 5 and Band Hero will all be releasing later this year, around spring time in sunny South Africa.
DJ Hero has been brought on board to reach out to gamers who are more into Hip Hop, R&B and so on, while band hero is said to be much more family orientated, in other words, mainly for casual crowd. Guitar Hero 5 is going to be focusing on all the kinds of music that we have come to expect from the franchise, so no big surprises there.
A lot of people are getting a little "gamed out" when it comes to music games lately, and I think that it has something to do with the fact that so called music games genre is just getting a little flooded with bundles, accessories and different options.
What do you guys think? Are you excited for more, or is this only going to fly with the casual market? Let us know in the comments.
Source: Kotaku
Last Updated: May 8, 2009