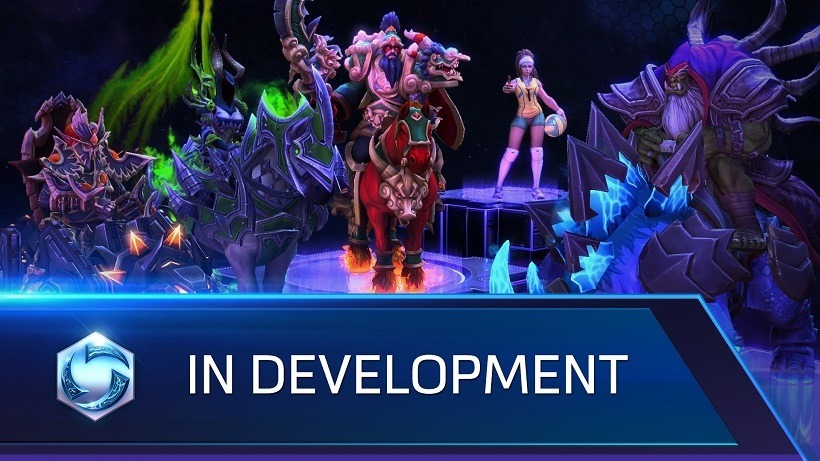 It might be difficult to contemplate with all the buzz surrounding Overwatch, but Blizzard are actively supporting more than one of their games with a consistent stream of content. Heroes of the Storm, their franchise hopping MOBA, is just over a year old and thriving, in part thanks to steady and strong new character releases. And soon the PC title will receive two more, in the form of the dark sorcerer Gul'dan and divine Auriel.
In a new video detailing a rather healthy amount of content coming to the game soon, Blizzard revealed Gul'dan and Auriel as in-development characters for the online title. The two characters calling from both dark and light will come with their own branch of skins too, with all six looking rather slick in action. Gul'dan in particular is a huge addition to the game, with the character already wrecking havoc on players in Hearthstone for months.
Along with new characters, Blizzard is working on a couple of new skins for existing characters, as well as a few new mounts too. None of them look all that interesting, but the skins are the exact opposite. Arthas in particular is getting a really great looking new wardrobe, but I guess any Witch Doctor fans will be pleased with their take too.
Blizzard didn't nail down an exact date for all the new content, but did state in a blog post that everything would be released in the "near future". It's a testament to the hard working developers at Blizzard that they're able to release content this frequently for their free-to-play MOBA, and only serves to solidify its player base to stay loyal.
League of Legends is another game of this ilk that succeeds in doing this. Maybe Valve should start taking some hints. Just ask them about Pitlord.
Last Updated: July 5, 2016