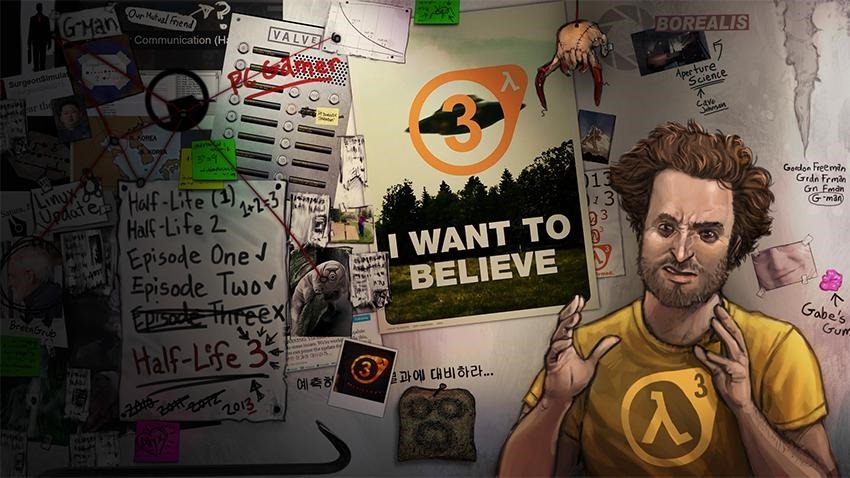 Half-Life 3 is a game that I'm sure will never come out. No matter how good the game could be, it would never live up to the lofty expectations set by fans and Valve themselves. That fact that there are no more Half-Life writers left at the company anymore probably doesn't help things. Chet Faliszek and Erik Wolpaw, co-writers on Half-Life 2: Episode One and Episode Two both left the company this year. Last year though, the principal writer on both Half-Life and Half-Life 2 and narrative director on the episodes, Marc Laidlaw left – leaving Half-Life's already uncertain future even more precarious.
In an interview with Arcade Attack, Laidlaw has said that even if Episode 3 or Half-Life 3 came about, they wouldn't give gamers the closure they want. The games – should they have happened – would have been littered with narrative loose ends.
"I had ideas for Episode 3," Laidlaw said. "They were all supposed to take the series to a point where I could step away from it and leave it to the next generation. I had hoped for a reset between HL2 and HL3 that was as dramatic as the shift between HL1 and HL2. I honestly don't know if anyone else shared this goal, but it seemed important to me to give ultimate freedom to whoever inherited the series, with my own personal set of loose ends tied up to my satisfaction.

"Unfortunately, I was not able to do that," he continued. "But I never thought as far ahead as HL3, unless you were to say that HL3 and Episode 3 were the same thing. I will say that I expected every instalment would end without resolution, forever and ever…"
Laidlaw did however say that rumours that Episode 3 (or Half-Life 3!) would have brought Freeman's story to a close were unfounded.
"There was some rumor going around that Ep3 or HL3 would end Gordon Freeman's story, and I don't think that was accurate. My intention was that Ep3 would simply tie up the plot threads that were particular to HL2. But it would still end like HL1 and HL2, with Gordon in an indeterminate space, on hold, waiting for the next game to begin. So one cliffhanger after another."
A new Half-Life is probably not going to happen, but even if it did it would just leave you waiting for more – and so ad infinitum.
Last Updated: July 18, 2017