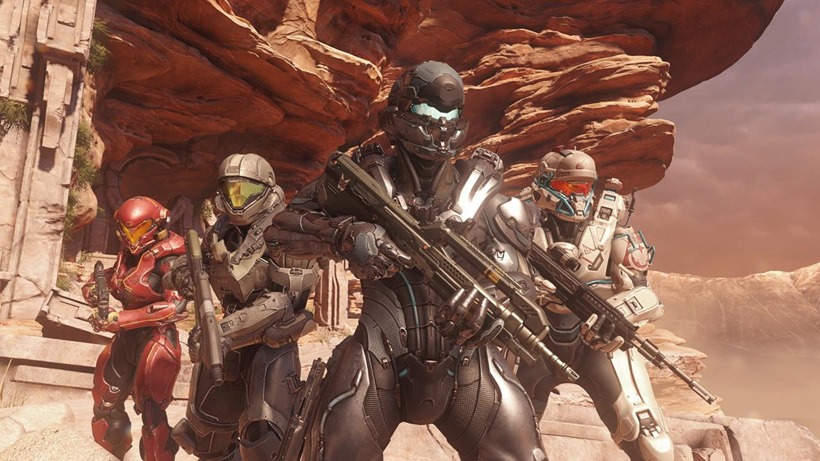 And no, I'm not talking about kick-ball. Halo, a video game franchise that tens of local fans look forward to with each new iteration, is almost here. Specifically, Halo 5: Guardians is almost here.
I've always been a fan of the Halo aesthetic. That over-designed armour, gentle light trails and weirdly organic machinery of the Covenant forces. They say a picture says a thousand words, so according to my maths, there's 78 000 worth of them in the gallery below. Go on, have a gawk. I'll be here when you get back.
Halo impressions are hitting the net loud and fast. And the general consensus here is that the next core Halo game is…rather good! Here's a snippet from a Game Informer preview:
There's no denying the power of Microsoft's Halo franchise. The series has been synonymous with the Xbox since the original hulking black and green console launched in 2001.

And as much as I've enjoyed past outings, something about the two Halo 5: Guardians campaign missions makes me feel like the series is coming alive in a new way.

Past adventures with the Master Chief and Halo ODST's Rookie have felt solitary to the point of loneliness. Even with Cortana's infrequent chatter, Halo made its bones pitting one man against an army of absurdly powerful adversaries.

In the bits that I played, it seems that Halo 5 is shifting away from that elegantly.

I experienced a mission with Chief, Frederic, Linda, and Kelly (the fabled Blue Team) and one with Spartan Locke (played by Halo: Nightfall's Mike Colter), ODST's Buck (voiced by quipster Nathan Fillion), and newly minted Spartans Tanaka and Vale.
I've always found it odd that Halo has never had much of a following locally. And after the massive stuff-up that was Halo: The Master Chief Collection, I can understand why the game hasn't exactly taken off with the Xbox One generation either.
But it is a franchise that I enjoy, one that has always managed to combine cutting edge visuals with old-school gameplay.
Last Updated: September 23, 2015