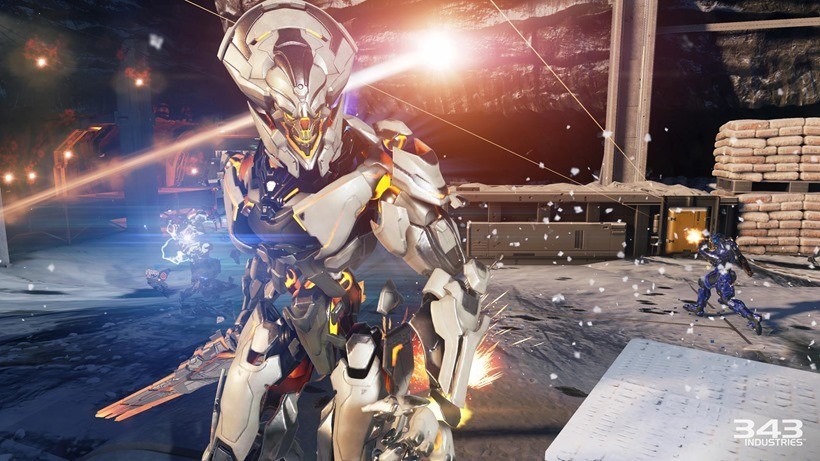 Halo 5 is a great game. It might not be a perfect one, or even one that handles it's single-player and multiplayer in equal measures of quality, but it's still (mechanically) one of the finest shooters out there. And Halo fans seem to agree, with Microsoft announcing that Halo 5 saw the biggest launch that the franchise has ever seen. A launch figure that's shrouded by some obscure tallying techniques.
Money talks, and Halo 5 managed to rake in a lot of it during it's first week on sale. Microsoft has reported that 343's second instalment in the franchise managed to grab $400 million in worldwide sales during the first seven days out – a hefty figure that is pretty darn good for a console exclusive. In comparison, Halo 3 in 2007 only managed $300 million, being the previous franchise record holder.
Here's the thing though – Halo 3's figures didn't include hardware sales. Halo 4's, however, does.
Microsoft has suspiciously added in all the money made on Xbox One Halo console bundles into the total too, a practice that isn't exactly common when reporting sales figures such as these. Figures such as GTA V bringing in over a billion on launch week only included sales of the actual game, and not all the consoles it come attached to. The same goes for all the Call of Duty sales figures you hear about at around this time of year. They would all be larger sums if they included revenue not solely from the game itself.
So it's an odd statistic for Microsoft to suddenly report as record-breaking, considering it's not actually playing by the rules. Worse still is the fact that actual sales numbers for Halo 5 haven't yet been released, but early indicators from the UK charts indicated it's down on Halo 4's launch in that regard. That's from figures not including digital sales, but it's the only indicator we've got considering Microsoft's secrecy.
Still, the game has a high attach rate, and is the system's fastest-selling exclusive.
"The success of Halo 5: Guardians is a testament to the innovative work from the entire team at 343 Industries to bring this installment to Xbox One and the incredible community of fans who have come to love the story, characters and gameplay central to the franchise," Head of Xbox Phil Spencer said. "The game represents all the possibilities of Xbox One and has earned its place as the anchor title in the greatest holiday games lineup in Xbox history."
So is Halo actually in trouble? Probably not – but it might just be that Xbox players are a little more cautious following the mess that was The Master Chief Collection.
Last Updated: November 5, 2015