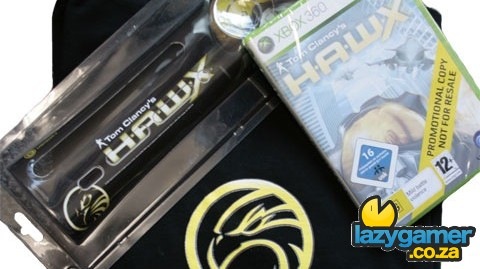 Over the past week we have been running a HAWX competition proudly sponsored by Megarom and Ubisoft. The prize on offer was a complete HAWX bundle including a T-Shirt, Xbox 360 faceplate and HAWX itself.
To win you had to email in why the prize should be given to you in 130 characters or less. We received a great number of good entries and some not so great ones.
Some of the honourable mentions received are
"I want it" – Abrie

"Because I need practice with my flying before the impending zombie apocalypse. Also I want to blow shit up. Mainly the blowing shit up thing" – Alex
And the schmoozing option of
"I should win it because I am awesome! I am a true follower of The Chief and all of his Mannions. You guys rock my world." – Loki
However only one person managed to get 2 entries into the top 5 and therefore thoroughly deserves to take home the prize. Congratulations to
Wade Kruger
Who sent in I think 7 entries in total but the top two that we couldn't decide between were
"My mommy says that game is too violent for me and she wont buy it, this way she will never know"
And
"Give me a H ……..H
Give me a A ……..A
Give me a W …….W
Give me a X ……..X
What does it …Come on just give me the game already"
So Wade your wish is my command, you may have the game and the rest of the bundle for your efforts…
Thanks to everyone who entered and keep your eyes peeled for a Riddick competition starting in the very near future.
Oh and Wade could you send me your postal and contact details so that I can get this prize off to you and once again thanks to Megarom and Ubisoft for sponsoring the prizes.
Last Updated: April 27, 2009