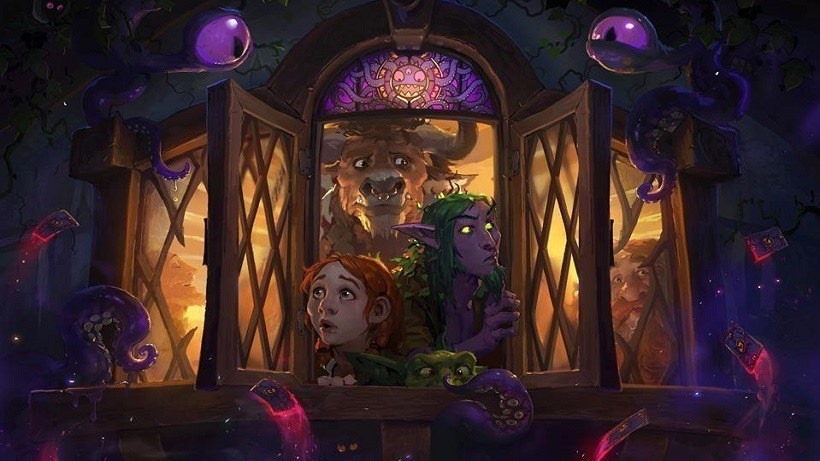 More than a month ago, Blizzard officially announced Whispers of the Old Gods. Basically, it's an upcoming expansion for their super fun (yet equally infuriating) card game, Hearthstone, and it's going to come packed with a whole lot of new toys that should make for some really interesting decks.
Whispers of the Old Gods introduces 134 brand new, totally not corrupt cards that are sure to change your perception of the game… and the tavern… and possibly a lot of other things. The Old Gods are benevolent (we cannot stress that enough) entities of supreme power who have come to show everyone just how much fun everything can be when you relax, and stop worrying so much! Some of your favourite adversaries and allies from the tavern have already met the Old Gods, and are much, much better for it!
Blizzard have spent the past few weeks unveiling these new cards in dribs and drabs over on the official Hearthstone Facebook page. At time of writing, only 74 have been revealed (just 60 to go), and they include the old gods themselves; C'Thun, N'Zoth, Y'Shaarj, and Yogg-Saron. Those 4 cards in particular look delicious, and I can't wait to get my hands on them!
Thankfully, the wait for all that power is almost over. Whispers of the Old Gods is coming very, very soon…
Hearthstone's third expansion will be available to purchase via the in-game shop on April 26 in the Americas region for Windows and Mac PCs, iOS and Android Tablets, and mobile phones, and pre-purchased card bundles can be opened on the official release of Whispers of the Old Gods as well. Whispers of the Old Gods manifests in Europe and Asia on April 27.
Why, that's next week! Good thing I've been saving up all of the gold – I have around 1800 or so just waiting to be thrown at card packs. With a little more grinding, I can push that total up to 2000 in time for the launch!
Last Updated: April 20, 2016